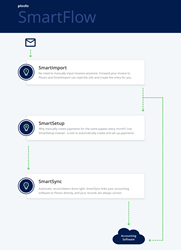 The SmartFlow product line automates the entire payment process, providing our customers control over their payments while also delivering efficiency and flexibility - Hamed Abbasi
TORONTO (PRWEB) April 18, 2018
Traditional payment workflows have always required customers to use several different platforms in their AP workflow and spend time on administrative duties, including manually entering data and setting up payments. These tasks added little value to the business but could take several hours or days per week to complete.
With SmartFlow, Plooto customers can now use one seamless platform to streamline the payment process end-to-end. Plooto's new SmartFlow product line increases efficiency by eliminating data entry associated with AP, making the entire payment process effortless.
The SmartFlow product line includes three features:

SmartImport - enables customers to automatically create accounting entries by forwarding or uploading invoices to Plooto
SmartSetup - intelligently creates and sets up payments without any data entry
SmartSync – accurately auto-reconciles payment entries in the accounting software
Customers can choose some or all of the SmartFlow features for complete flexibility around streamlining their payment workflow.
"Our goal is to make payments effortless" said Hamed Abbasi, CEO of Plooto Inc. "The SmartFlow product line automates the entire payment process, providing our customers control over their payments while also delivering efficiency and flexibility".
Plooto helps accountants, bookkeepers, and business owners manage their payments in minutes with simple, cost-effective technologies. Plooto provides domestic and international payments to businesses in North America and integrates with the top accounting platforms, including QuickBooks Online, QuickBooks Desktop, and Xero. Plooto is used by over 55,000 businesses.
About Plooto
Founded in 2015, Plooto is a venture-backed financial technology company dedicated to streamlining the way businesses manage their domestic and international payments. Plooto was named a CIX (Canadian Innovation Exchange) Top 20 Most Innovative Company and was shortlisted as one of C100's 2017 cohort of Canada's Most Promising Startups. For more information, visit http://www.plooto.com.