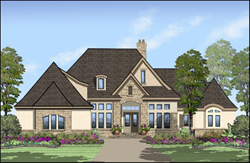 Our flooring helps fund St. Jude's important work to end childhood cancer and save lives.
DALTON, Ga. (PRWEB) April 18, 2018
Shaw Floors is proud to continue its support of St. Jude Children's Research Hospital® as a national sponsor and the exclusive flooring provider of the 2018 St. Jude Dream Home® Giveaway.
Shaw Floors returns to sponsor the St. Jude Dream Home® Giveaway by donating flooring for each of the 39 homes across 35 markets nationwide to be raffled away in support of the hospital. More than 120,000 square feet of carpet, carpet cushion, hardwood, luxury vinyl tile, ceramic tile and other Shaw Floors products have been donated for use in this year's Dream Homes.
Before the installation of Shaw Floors' products, Shaw associates and partners gather in each of the Dream Homes to sign the subfloors, writing their best wishes for the patients at St. Jude, the scientists and doctors researching childhood cancer cures and the lucky families who will win the homes in the drawing.
"We are excited to once again be part of the St. Jude Dream Home® Giveaway," said Tim Baucom, executive vice president of Shaw's residential division. "Shaw associates are proud to know that through this program, our flooring helps fund St. Jude's important work to end childhood cancer and save lives."
The St. Jude Dream Home® Giveaway is one of the largest single-event fundraising efforts for the hospital. To date, 210 homes have been raffled away through this program, raising more than $350 million in support of St. Jude's mission: Finding Cures. Saving Children.® For more information about the St. Jude Dream Home® Giveaway or to purchase tickets to win a home, visit stjude.org/dreamhome.
What started in 2012 as a single sponsorship of the St. Jude Dream Home Giveaway® by Shaw Floors has grown into a multi-channel partnership across Shaw Industries, raising more than $8.6 million for St. Jude to date. Shaw Floors' partnership currently includes a seven-style carpet cushion collection benefiting St. Jude and gold-level sponsorship of the St. Jude Memphis Marathon Weekend, where Shaw associates come together to fundraise and run.
About Shaw Industries
Shaw Industries Group, Inc. offers a diverse portfolio of carpet, resilient, hardwood, tile & stone, and laminate flooring products, synthetic turf and other specialty items for residential and commercial markets worldwide via its brands Anderson Tuftex, CoreTec, Patcraft, Philadelphia Commercial, Shaw Contract, Shaw Floors, Shaw Hospitality, Shaw Sports Turf, Southwest Greens, USFloors and more.
Headquartered in Dalton, Georgia, Shaw has annual revenues of almost $6 billion (USD) and is a wholly owned subsidiary of Berkshire Hathaway, Inc. The company employs 22,000 associates with offices; R&D, manufacturing, warehousing and distribution locations; product showrooms; and/or salespeople throughout the U.S., as well as Australia, Belgium, Brazil, Canada, Chile, China, France, India, Mexico, Singapore, United Arab Emirates, and the United Kingdom. For more information, visit http://shawinc.com.
About St. Jude Children's Research Hospital®
St. Jude Children's Research Hospital® is leading the way the world understands, treats and defeats childhood cancer and other deadly diseases. St. Jude has the world's best survival rates for the most aggressive childhood cancers, and treatments invented at St. Jude have helped push the overall childhood cancer survival rate from 20 percent to 80 percent since we opened more than 50 years ago. St. Jude is working to drive the overall survival rate for childhood cancer to 90 percent in the next decade. St. Jude freely shares the breakthroughs we make, and every child saved at St. Jude means doctors and scientists worldwide can use that knowledge to save thousands more children. Families never receive a bill from St. Jude for treatment, travel, housing or food – because all a family should worry about is helping their child live. Join the St. Jude mission by visiting stjude.org or following St. Jude on facebook.com/stjude and twitter.com/stjude.