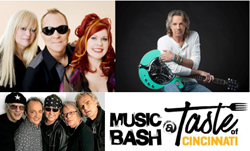 LOS ANGELES (PRWEB) April 18, 2018
If you are a fan of the 80's – 90's music and great food then this VIP concert held on Sunday, May 27th is the place to be. Billed as "Music Bash at Taste of Cincinnati", National recording artist The B-52's ("Love Shack", "Rock Lobster", "Roam", Rick Springfield ("Jeese's Girl", "Don't Talk to Strangers") and Lover Boy ("Turn Me Loose", "Working for the Weekend", Lovin' Every Minute of It") will make this special night come to life with limited tickets going on sale April 18th, 2018 . Ticket prices will start at $30.00 that will include special benefits and VIP seating packages to include hospitality and available at tasteofcincinnati.com and at ticketmaster.com. This first of its kind experience at The Taste of Cincinnati is made possible by its Executive Producer, Imagination TV Inc. (IMTV). The Music Bash at Taste of Cincinnati™ will be produced by NFuse 360 Marketing. Taste of Cincinnati™ is produced by the Cincinnati USA Regional Chamber.
Doors open one hour prior to show start time. The show will begin at 5pm and go until 11pm providing fans a great experience filled with countless classic music hits, food and beverages.
It is well known that the B-52s are The World's Greatest Party Band. And nearly forty years and over twenty million albums into their career, there can be no doubt as to why they remain one of rock music's most beloved and enduring bands. Any mystery concerning the band's longevity and ongoing appeal is immediately solved when exposed to a B-52s concert experience. From groundbreaking songs like "Rock Lobster," "Dance This Mess Around" and "Private Idaho" to chart-topping hits like "Love Shack" and "Roam" and "Deadbeat Club" to their thrilling reemergence on the pop scene with their 2008 CD Funplex the B-52s' unforgettable dance-rock tunes start a party every time their music begins.
Over the past four decades, Rick Springfield has worn many hats as an entertainer and performer. The creator of some of the finest power-pop of the '80s, a Grammy winning singer, songwriter, and musician who has sold 25 million albums and scored 17 U.S. Top 40 hits, including "Jessie's Girl," "Don't Talk to Strangers," "An Affair of the Heart," "I've Done Everything for You," "Love Somebody," and "Human Touch." He's an accomplished actor who has starred opposite Meryl Streep in the feature film Ricki and the Flash, gave a chameleonic performance as the creepy Dr. Pitlor in HBO's prestige drama True Detective, earned great reviews for his portrayal of Lucifer this season on the CW hit, Supernatural and most recently played Pastor Charles on American Horror Story. In 2014, Springfield was honored with a star on the Hollywood Walk of Fame, located around the corner from the first apartment he lived in when he first arrived in the U.S. from Australia in 1971.
Rick's latest Album "The Snake King" finds Rick travelling down a dusty dirt road to explore the blues side of his rock 'n roll and marks a definite departure from the power pop he has been known for.
For more than 30 years, LOVERBOY has been "Working for the Weekend" (and on weekends), delighting audiences around the world since forming in 1978, when vocalist Mike Reno was introduced to guitar hot shot Paul Dean – both veterans of several bands on the Canadian scene.
Soon the band found themselves playing on mega tours with Journey, Bob Seger, Cheap Trick, ZZ Top, Kansas and Def Leppard, to name a few. They quickly became MTV darlings, being one of the first bands ever featured on the music channel.
With their trademark red leather pants, bandannas, big rock sound and high-energy live shows, LOVERBOY has sold more than 10 million albums. Their string of hits includes, in addition to the anthem "Working for the Weekend," such arena rock staples as "Lovin' Every Minute of It," "This Could Be the Night," "Hot Girls in Love," "The Kid is Hot Tonite," "Notorious", "Turn Me Loose," "When It's Over," "Heaven In Your Eyes" and "Queen of the Broken Hearts."
Along with Reno and Dean, LOVERBOY still includes original members Doug Johnson on keyboards and Matt Frenette on drums, with Ken "Spider" Sinnaeve (a former member of Dean and Frenette's pre-LOVERBOY band Streetheart), replacing the late Scott Smith on bass, and continues a healthy touring schedule around the world.
About NFuse 360 Marketing, Inc.
NFuse 360 Marketing is based in Westlake Village, CA, Nashville, TN and Deerfield Beach, Florida. NFuse 360 Marketing is a strategic integrated Marketing, Promotion and Events company that directs an array of custom marketing programs for national brands. NFuse 360 builds hundreds of custom programs a year that are structured on providing 360 degrees solutions for its clients including The Big Bite Tour and The Tailgate Tour.
About Imagination TV Inc.
Imagination TV Inc. is a publicly traded online media and entertainment company with a focus on the Music & Live Event industries.
About the Cincinnati USA Regional Chamber
The Cincinnati USA Regional Chamber grows the vibrancy and economic prosperity of the Cincinnati region. It does this by serving as a bold voice for the interests of its 4,000-member businesses and their more than 300,000 employees. The Chamber is committed to expanding the region's talent base by attracting new residents and finding new ways to connect employers to skilled workers. And, by harnessing the power of Cincinnati USA's unique offerings, implementing regional vision, and through intentional inclusion in everything we do, the Chamber is on a path to help transform this region into the hottest city in America. For more information, visit http://www.cincinnatichamber.com.