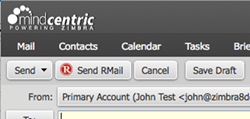 LAS VEGAS (PRWEB) April 19, 2018
RPost, a leader in email cybersecurity software services, and MindCentric, one of the largest Zimbra and Microsoft business email hosting providers in the United States, announce one of the largest instant business email encryption deployments at Channel Partners Conference (Learn more at RPost booth #3079).
"RPost made it easy to turn on its RMail secure messaging services for all of our business customers. Simple and elegant; as RMail provides users one uniform experience across all of the main email platforms, whether our customers are using Zimbra, Microsoft Outlook, Microsoft Exchange/Office365, or some combination," states John Ewart, Partner of MindCentric. "Our customers enjoy all of the new security benefits as well as all of the RMail productivity tools, all-in-one, one click away." In phase one, MindCentric deployed RMail to more than 50,000 users with a free-to-premium service arrangement permitting all users a cost-effective way to use RMail services at their desired level.
RMail® adds a suite of security, compliance and productivity tools into the Microsoft Outlook and Zimbra user interface, providing senders with simple-to-use email open tracking, Registered Email™ certified e-delivery proof, compliant email encryption, electronic signatures, secure large file transfers, auditable proof of compliance, email imposter protection, and more. Powered by patented Registered Email™ technology, RMail returns a Registered Receipt™ record for every message sent, providing and proving important e-delivery details and data privacy compliance.
Users that install RMail are auto-enrolled with a base service plan for RSign.
"We are excited to provide both RMail and RSign to our customers. RMail secures, tracks and certifies proof of delivery of email content and attachments. RSign is a document management and e-signature platform," adds John Ewart at MindCentric. "Both are so simple to use and provide more advanced features than their competitors which we evaluated. And, it's a lower cost. It's a real win, win for everyone."
RSign® is a simple to use, full featured, web-based e-signature service that makes it easy for signers to complete and sign documents electronically using any web browser, in an intuitive, self-guided signing process. RSign includes reminders & notification automation and rules, real-time delivery and signoff audit trail and history, as well as encryption, templates, advanced form features, signer authentication, and more.
"MindCentric took the right approach. Make RMail available for all users. Once users 'Send RMail' for the first time, they are thrilled to see all of the new business tools MindCentric has brought to them, helping them do more, faster, from inside their current email interface," adds Zafar Khan, CEO of RPost. "RMail simply makes Microsoft and Zimbra email better for business."
About RPost: RPost is a leading cyber security company providing email security, compliance, and productivity services to more than 25 million users worldwide over more than a decade. RPost has set the global standard for secure and certified electronic communications, with more than 50 patents granted on its core Registered Email™ technologies, used to track and prove email delivery, encrypt email, protect from imposter email, secure large file transfers, and manage e-signature transactions. Recipient of the World Mail Award for Best in Security, Best Innovation in IT Award in Germany, and voted Top Choice for GDPR Email Data Privacy Compliance in Europe, RPost services are in use in nearly every country in the world, within Global Fortune 500 companies, and endorsed by the most influential industry associations including The Florida Bar. https://www.rpost.com/
About MindCentric: MindCentric has partnered with businesses that require sophisticated, high-touch managed hosting since 1999. With thousands of clients in production today, MindCentric clients enjoy many cloud-based services such as: Cloud Hosting, Managed Services, Managed Security, Compliance, Disaster Recovery, Virtual Desktop, Hosted Email, Cloud Storage/Drive, Cloud Consulting, and Hybrid Services and Support with AWS and Azure. http://www.mindcentric.com