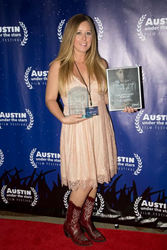 "I enjoy organizing and love film.. It felt like it was the right time to take on producing. After a discussion with my client Joshua Lee Young about directing him towards more roles in the horror genre, Josh came on board as associate producer on the first project,"
LOS ANGELES (PRWEB) April 19, 2018
First time producer Elizabeth Lloyd is on a winning streak with her first short film "An Unpleasant Surprise" which won "Audience Choice" and "Best Twist" at its first festival "Austin Under the Stars Film Festival." The team had second win with "Best Dark Comedy Short" at "Austin Comedy Short Film Festival" where the film was also nominated for "Best Cinematography." The short film stars David Witts (Eastenders, Recovery Road) and Joshua Lee Young.
Elizabeth formed "Seraphic Productions" in the summer of 2017 as a natural progression from running her public relations company which now has offices in Los Angeles, London, and Austin.
"I enjoy organizing and love film. It felt like it was the right time to take on producing. After a discussion with my client Joshua Lee Young about directing him towards more roles in the horror genre, Josh came on board as associate producer on the first project," said Elizabeth.
Seraphic Productions now has a number of projects in development including a feature horror film with the writer and director of "An Unpleasant Surprise," James Furlong and a project with award winning producer Nadia Jordan (For The Love of George) among others.
"Producing is not easy but it's highly rewarding. I love seeing all the hard work from the team come together in the end. To be nominated, let alone win, is a great feeling because it means someone else loved your work. This puts your mind at ease as there is always room for improvement."
For more information please contact: info(at)seraphicpr(dot)com
Seraphic PR Facebook Page
Seraphic PR Instagram Page