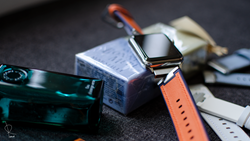 "The watch strap industry has barely changed for a century..."
MANCHESTER (PRWEB) April 19, 2018
SteelConnect, one of the world's most innovative watch strap companies, follows few successful Kickstarter campaigns – the SteelConnect 1.0 lug adapter for Pebble Steel, SteelConnect M lug adapter for Moto360 and Quarter Dock for iPad Pro – with a fifth crowdfunding campaign for its latest design, the inventive and stylish Remod X.
Even by SteelConnect standards, the Remod X Band is creative in the extreme. The line of watch straps, geared towards Apple Watch wearers, is completely reversible with a sophisticated Reversible Twist Link (simply "pull, twist, lock") that allows wearers to change up their style in seconds. In addition, the universal Dual Clasp enables the tightening of straps on either side.
"No matter how you twist it, the strap's pin lock moves in lock-step," commented SteelConnect Co-founder Jason, "Inside or out, left-handed or right – Remod X is made for everyone. We make the kind of watch straps that your watch deserves."
The Remod X watch strap comes in a variety of looks; combining materials to push the boundaries of style even further. Thanks to a collaboration with Swiss company, Braloba, Remod X straps mix together a variety of distinct, premium materials including Horween Leather, Italian Leather, Japan Kurabo Mill Denim, Ligneah Wood Fabric, Cordura Engineered Fabric and Fluoroelastomer rubber.
"The watch strap industry has barely changed for a century," continues Jason, "We thought it was time for a unique twist. From the combination of stylish materials to the innovative functionality – our team has considered every detail to create a watch strap that is as advanced as the watches they connect to."
The first phase of the Remod X watch strap line is designed specifically for Apple Watch wearers and other 22mm lug watches.
The Remod X Kickstarter campaign launches on 2nd May 2018 at – http://www.remodwatchband.co
Learn more about Remod X Band, please visit the link as above.
About SteelConnect
SteelConnect was established in 2013 to create Smart Watch accessories that drastically improve upon the style and functionality of the default offerings. The company's first product was the SteelConnect 1.0 lug adapter for Pebble Steel, which launched successfully on Kickstarter – more than doubling its campaign goal. The company's second Kickstarter campaign, for the Moto360 lug adapter, was similarly successful.
###
If you would like further information, materials, or an interview about Remod X, please contact:
PRESS OFFICER CONTACT INFO
Suzie Lim
pr(at)steelconnect.co