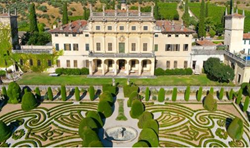 The most important tribute to Leonardo Da Vinci is coming. World premiere on 2nd May 2018 at Villa Arvedi di Grezzana (Verona - Italy)
VERONA, Italy (PRWEB) April 19, 2018
"Mani d'oro" Italian cultural association presents on 2nd May 2018 at Villa Arvedi di Grezzana the world premiere of "Celebrando Leonardo".
During the premiere the following will be available:
1) The Enogral cup" (Coppa Enogral) forged by Murano glass masters
2) The "Dish of the time" (piatto del tempo) for the world chef
3) The "Leonardesque bell" (campana leonardesca) to go around the world with Leonardo's symbols
4) The "Leonardo house"
5) The party of heaven with the world format called 'A cena con Leonardo' (dinner with Leonardo)
In addition some prominent figures will receive the title of testimonial of Leonardo such as: President of EU Antonio Tajani, actor Leonardo di Caprio for his name that he received when he was in his mother's womb as he moved when his mother saw one of the Leonardo's paintings, the car manufacturer mister Horacio Pagani, the italian anchorman Alberto Angela and professor Carlo Pedretti for his life that he spent in the name of Leonardo Da Vinci.
LETTER TO THE GREAT ONES OF THE WORLD:
Dear Xi Jinping, Donald Trump, Vladimir Putin
The whole world needs you, Leonardo da Vinci wrote 500 years ago: "li omini si parleranno a distanza tra stato e stato senza conoscersi" (Human beings will talk to each other aloof even without meeting) and in this message relays the human desire to live in a world where the communication is part of the life and where exchanges of opinions are seen as a way to improve our life in the world.
Billions of human being give you trust, and you, political leaders of nations, can decide to do good or bad things. The life of billions of people relies on you and your decisions can create hope but also war and despair. For this reason "Celebrando Leonardo" asks you to think, in all your decisions, not only about your country, but above all about those who are in need. We are convinced that the future of humanity and the planet is not to close, but to open up according to precise market rules.
Leonardo's testament:
world, world that you go,
walking world,
welcome the rich and the poor,
the pedantic and the sick,
the prophet and the prophet
look around,
found in the universe
do not consider yourself great,
do not raise another tower of Babel,
walk towards your destiny
but take your shadow of common sense with you,
and your sense of being part or instrument.
Creator Mr Alberto Vincenzo Vaccari
More information about the event is available at : http://www.celebrandoleonardo.org http://www.celebrandoleonardo500.com