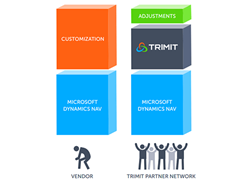 By partnering with TRIMIT, we are able to help these customers automate and optimize processes with an industry-leading solution.
(PRWEB) April 19, 2018
TRIMIT, a leading developer of Microsoft Dynamics NAV-based software solutions for fashion, furniture, and configuration, has expanded its partner network to Romania by partnering with ELIAN Solutions, a Microsoft Gold Certified ERP provider. The partnership will let ELIAN Solutions enhance Microsoft Dynamics NAV with TRIMIT's end-to-end software solutions for the SMB market.
ELIAN Solutions is a Microsoft Dynamics consultancy and vendor which offers customers a range of IT services focused on problem solving and increasing effectiveness. Its experience and knowledge of working with Microsoft technology enables it to maximize client investments in ERP and other applications.
"We often meet companies that need to manage a large amount of product variants and data. They do this with multiple spread sheets and IT systems that have been heavily customized, but they often reach a point where they recognize the need to consolidate their data and automate their business processes", said Iulian Motoi, Managing Partner at ELIAN Solutions. "By partnering with TRIMIT, we are able to help these companies automate and optimize processes with an industry-leading solution."
Developed through more than 28 years in-industry, the TRIMIT solutions seamlessly integrate PDM, ERP, and e-commerce in one single IT system. They replace costly customizations of Microsoft Dynamics NAV with functionality designed to solve business challenges faced by the fashion, furniture, and general manufacturing industries.
"We are thrilled to partner with ELIAN Solutions. We are always focused on adding the right partners with the right people to complement our existing network," said Troels Rasmussen, Head of Sales at TRIMIT. "Everything we have seen from ELIAN Solutions fits our requirements for industry expertise and a proactive approach. We believe that their expertise and consulting capabilities will be a significant enabler of success for TRIMIT customers."
About ELIAN Solutions
ELIAN Solutions provides implementation services for the ERP solution Microsoft Dynamics NAV (Navision). As a Microsoft Gold Partner, it is entitled to provide a full range of services for Microsoft Dynamics NAV starting from the preliminary business analysis till the post-implementation support and maintenance.
Additional information about ELIAN Solutions is available at http://www.elian-solutions.ro/en/
About TRIMIT
For more than 28 years, TRIMIT has been a front-runner in providing companies worldwide with the platform they need to focus on doing business and perform at their very best.
The industry-specific solutions are based on Microsoft Dynamics NAV and works by seamlessly combining PDM, ERP, and e-commerce in one single powerful software solution that provides companies with the insight they need to stay ahead of the competition.
Today, more than 400 companies in the fashion, furniture, and manufacturing industries use a TRIMIT solution to automate and optimize their business from design to delivery.
Additional information about TRIMIT is available at https://www.trimit.com