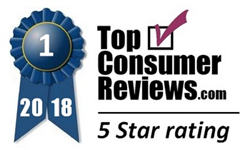 For all of these reasons, we are pleased to name Yowza Fitness as our winner among retailers of Treadmills in 2018
Overland Park, KS (PRWEB) April 19, 2018
TopConsumerReviews.com once again gave their best-in-class ranking to Yowza Fitness, a respected leader among Treadmill manufacturers.
From home gyms to fitness centers, the most commonly-seen piece of equipment is the Treadmill. These machines provide exercisers of all fitness levels with a solid cardiovascular workout that can be customized to suit practically any goal, whether that be a simple 15-minute walk to marathon training. When it comes to home use, shoppers should consider carefully all of the available options, as Treadmills range from the most basic models that fold up to save space to gym-quality machines that incline as much as 40% and have all of the tech bells and whistles on the market.
"As one of the few retailers that sell directly to consumers, Yowza Fitness continues to edge out the competition in the Treadmill industry," explained Brian Dolezal of TopConsumerReviews.com, LLC. "Their Treadmills have a high satisfaction rate from customers, largely because of their durability and reliability, combined with a lifetime warranty on the motor. Other features that appeal to Yowza Fitness' customers are an exceptional shock absorption system and a larger-than-average walking surface. And, across the spectrum of fitness equipment they offer, Yowza Fitness demonstrates a superior commitment to customer service, quality, and affordability. For all of these reasons, we are pleased to name Yowza Fitness as our winner among retailers of Treadmills in 2018."
To find out more about Yowza Fitness and other treadmills, including reviews and comparison rankings, please visit the Treadmills category of TopConsumerReviews.com at https://www.topconsumerreviews.com/treadmills/.
About Yowza Fitness
Yowza Fitness seeks to stay ahead of the home fitness industry through cutting-edge design and innovation, whose manufacturer has a 30-year track record of high-quality products. All of Yowza Fitness' products are designed in the USA, and their direct-sales approach allows them to keep value high and prices low.
About TopConsumerReviews.com
TopConsumerReviews.com, LLC is a leading provider of independent reviews and rankings of thousands of consumer products and services. From Treadmills to Home Gyms and Exercise Bikes, TopConsumerReviews.com delivers in-depth product evaluations in order to make purchasing decisions easier.