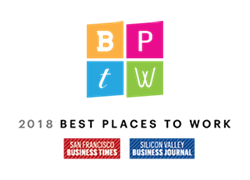 This Marks the Second Consecutive Year Zinc, the Leading Enterprise Communications Platform for Deskless Workers Lands on the Prestigious List
SAN FRANCISCO (PRWEB) April 19, 2018
Zinc Ranks in the Top Ten 2018 Bay Area Best Places To Work
This Marks the Second Consecutive Year the Leading Enterprise Communications Platform for Deskless Workers Lands on the Prestigious List
San Francisco, CA – April 19, 2018 – For the second consecutive year, Zinc http://www.zinc.it, the company redefining communication for enterprises with deskless workforces, has been awarded the 2018 Bay Area Best Places To Work distinction. The award is presented by the San Francisco Business Times and the Silicon Valley Business Journal.
The winning organizations were honored at a reception on April 18, 2018, for having created exceptional workplaces that their employees value highly.
The Best Places to Work ranking identifies companies in the region whose employees rate them as the highest on such values as fun, collaborative culture, solid compensation and benefits offerings and other amenities as well as management practices.
"People drive performance, and great culture is not a nice-to-have at Zinc, it is a strategic imperative. Ranking in the top 10 on the 2018 Bay Area Best Places to Work list is an honor, and I am most proud of the culture our team has created here. We have thoughtfully crafted our values, and we hire people who embrace and embody them," said Stacey Epstein, CEO, Zinc. "Elated employees work smarter and harder, and I want to personally thank all of our employees who make Zinc's culture great. Your commitment to providing deskless workers a better way to communicate is invaluable in helping us make change every day."
About Zinc
Founded on the belief that deskless workers need a better way to communicate, Zinc provides the only All Mode Communication Platform bent on driving business results. With access to real-time communication any time on any device, Zinc truly transforms the way businesses run. Loved by users and trusted by the enterprise, customers include Marriott, Vivint, BlueLine Rental, and Gaylord Hotels. Visit http://www.zinc.it and follow @Zinc on Twitter.
About 2018 Bay Area Best Places to Work
Best Places to Work is an innovative publication and awards program produced by the San Francisco Business Times and the Silicon Valley Business Journal. The rankings were determined by surveys that went directly to employees who answered a series of questions. The survey was administered online by the employers and through a service provided by Quantum Workplace, our research partner. The rankings are numeric based on Quantum's scoring process. By ranking companies and sharing best practices we facilitate idea sharing and help other companies learn from the best.
# # #