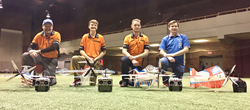 Muncie, IN (PRWEB) April 19, 2018
The Academy of Model Aeronautics (AMA) announces the competitors for the United States FAI F3P (Radio Control Indoor Aerobatics) World Championship team.
Team members will be Dave Lockhart, Medford, NJ; Devin McGrath, Catlett, VA; Joseph Szczur, Chantilly, VA; and Junior Greyson Pritchett, Muncie, IN. The team will represent the US at the Aorakia Sporting Arena in Heraklion, Crete, Greece, in March 2019.
# # #
About the Academy of Model Aeronautics
The Academy of Model Aeronautics, founded in 1936, serves as the nation's collective voice for approximately 200,000 modelers in more than 2,400 clubs in the United States and Puerto Rico. Headquartered in Muncie, IN, AMA is a membership organization representing those who fly model aircraft and drones for recreation and educational purposes. For more information, visit http://www.modelaircraft.org.