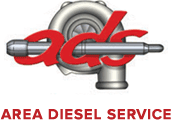 After 45 years in business, diesel power products company Area Diesel Service, Inc. has more plans than ever to offer more services and products for its customers.
Carlinville, Il. (PRWEB) April 19, 2018
April marked 45 years in business for Area Diesel Service, a national provider of innovative diesel performance products and services. Since its founding in 1973, the company has grown from a one-man operation to an industry-leading company with three locations, more than 50 employees, and an e-commerce presence that serves customers and dealers across the country.
Area Diesel Through the Years
In 1973, Area Diesel Service founder Val Leefers bought a small building outside Carlinville, Il. with one purpose in mind: to provide innovative diesel performance products and dedicated, honest service to diesel enthusiasts like him. Today, Area Diesel boasts additional locations in Des Moines, Iowa and Indianapolis, In., and the building in Carlinville still serves as company headquarters.
According to Area Diesel's Vice President, Von Leefers, a few things about that small building have changed over the years: "The original building has been added on to five or six times and remodeled more than we care to count," said Leefers. Those additions have become a mark of the company's evolution into what it is today.
As the diesel industry has changed over the years, Area Diesel's headquarters has grown to accommodate a department that exclusively handles turbochargers—especially Borg Warner turbochargers, a primary brand offering of Area Diesel's. The building also has a state-of-the-art machine shop, diesel fuel injection department, and distribution warehouse. Leefers said that more renovations are underway at the Carlinville location and are slated to be completed later this year.
In addition to its expanded headquarters facility, three additional locations, and partnering dealers across the nation, Leefers says the driving force behind the company's growth is all thanks to the dedication and loyalty of its staff.
"We're so fortunate to have employees that have stuck with us through thick and thin times," said Leefers. "A few have been with us for over 40 years. Not only do we work together, but we care for one another too. To me, that makes all the difference in building a profitable, lasting company."
Looking to the Future
As Area Diesel heads toward half a century in business, Leefers reiterated the company's dedication to pursuing the best inventory of diesel power products and continually improving for its customers. One way it plans to achieve the latter is by becoming certified in ISO 9001:2015, an internationally recognized quality management system that helps ensure excellence in product development and customer service. Area Diesel is also in the process of upgrading its internal business systems to a custom ERP that will streamline standard operations for the company's dealers and distributors, as well as upgrading to fiber-optic Internet.
Leefers said that Val's founding vision will continue to lead the way for Area Diesel. "We couldn't have had such a great 45 years of business without our customers," he said. "I'd like to thank each and every one of them for supporting us for so many years, and I look forward to working with current and new ones in the future."
About Area Diesel Service
Area Diesel Service, Inc. is committed to providing the best in service and products for its dealers and customers. A leader in the Midwest diesel market, Area Diesel works to honor the principles set by its founder, Val Leefers, while now offering its vast inventory of diesel products online to the national and international markets.
For more information on Area Diesel's innovative diesel performance products, visit areadieselservice.com or contact Corey Stallings at coreys@areadiesel.com.