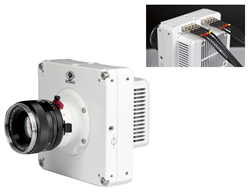 It brings the power of high-speed streaming data to machine vision applications, significantly increasing capabilities across both traditional high-speed and streaming applications.
WAYNE, NJ (PRWEB) April 18, 2018
Vision Research, a leading manufacturer of digital high-speed imaging systems, introduces the Phantom® S990, the world's fastest machine vision camera. The S990 features the right combination of fast frame rate, high resolution and available throughput for use in demanding machine vision applications in multiple industries.
The camera combines world-class, high-speed image quality with record-breaking direct data transfer speeds up to 9 Gpx/second to capture 938 frames per second (fps) at full 9-Mpx 4,096 x 2,304 resolution. It brings the power of high-speed streaming data to machine vision applications, significantly increasing capabilities across both traditional high-speed and streaming applications.
The Phantom S990 leverages the same CMOS 9.4-megapixel sensor found in the Phantom Flex 4K high-speed camera, capturing 12-bit images and delivering exceptionally high image quality. Using up to 16 standard CoaXPress (CXP6) channels, the S990 is compliant with GenICam and streams directly into PCI Express frame grabbers.
The camera also features a general-purpose input/output (GPIO) for fast, flexible signaling and synchronization. It includes signals beneficial in standard high-speed applications, such as Time Code In and Out, as well as signals commonly found in streaming applications.
"Phantom high-speed cameras are known for bringing cutting-edge technology to high-speed applications, and many emerging applications can benefit from direct access to high-speed data that streaming provides. We are excited to bring this capability to the market with the Phantom S990," says Dan Hafen, Director of Business Development for Phantom Streaming Cameras.
Manufacturers can increase their line speeds while maintaining high image quality and recording accuracy—decreasing bottlenecks and cost per unit and increasing production volumes. Research and development applications benefit from direct access to the data for immediate analysis, without the need to save to the Camera RAM then download. Also, the S990 coupled with DVRs easily supports long record time applications, such as rocket launches. GenICam compliance ensures that users can easily configure and integrate the S990.
Key Specifications of the Phantom S990
● Up to 9 Gpx/second (66 Gbps) of streaming capability
● 938 fps at 4,096 x 2,304 and 1,000 fps at 4,096 x 2,160
● 9.4-megapixel CMOS sensor in color or monochrome
● 6.75-µm pixel size
● 12-bit or 8-bit data transfer
● Rolling, Global and Bright Field shutter selection
● Up to 4 banks of 4 CXP ports
● CXP and GenICam compliant
● Sturdy, metal body construction
● Made in the USA
To find out the latest on Vision Research and its high-speed cameras, follow it on Twitter at @PhantomHiSpeed, LinkedIn at Vision Research, Facebook at "visionresearch" or keep up to date with the innovations on the Vision Research website at https://www.phantomhighspeed.com/
---
About Vision Research
Vision Research is a leading manufacturer of high-speed digital imaging systems that are indispensable across a wide variety of applications, including defense, automotive, engineering, science, medical research, industrial manufacturing, packaging, sports broadcast, TV production and digital cinematography.
The Wayne, N.J.-based company designs and manufactures the most comprehensive range of digital high-speed cameras available today, all of which deliver unsurpassed light-sensitivity, image resolution, acquisition speed and image quality.
Over the course of its 60+ year history, Vision Research has earned numerous awards in recognition of its innovations in high-speed digital camera technology and sensor design, including a technical Emmy and an Academy Award®.
Vision Research digital high-speed cameras add a new dimension to the sense of sight, allowing the user to see details of an event when it's too fast to see, and too important not to™. For additional information regarding Vision Research, please visit http://www.phantomhighspeed.com.
Vision Research is a business unit of the Materials Analysis Division of AMETEK Inc., a leading global manufacturer of electronic instruments and electromechanical devices.