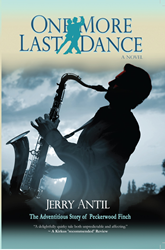 "A great adventure, mystery readers and millennials can't seem to put it down.."
NEW YORK (PRWEB) April 19, 2018
Author Jerry Antil's friend was on his deathbed at age 91. The man's wife called Jerry. The priest and doctor were in his hospice room, the family had flown in...Jerry's friend would be gone in hours - the family wanted him to know.
"I love that man. We've stayed close. He gave me my first writing job in the 1960s, thank you all for calling me," said Antil. "Can you put the phone next to his ear? I want to say good bye."
"He's asleep," was the reply, "but I will."
"Don!?" exclaimed Antil. "What the hell are you doing in bed? You promised to write that book of your Army Air Corp days in the South Pacific being stranded on that Jap controlled island. I haven't seen a page."
A faint, inaudible murmur came through the phone.
"Thank you Jerry," said his wife.
This happened on Sunday. On Tuesday Antil called to find out when and where the funeral was to be held.
"Jerry," said Don's wife. "They sent him home. He sat up after you spoke to him. They sent him home. I was just about to call you."
A year after that call Jerry phoned to inquire about his friend.
"Hello?" Don answered the phone.
"Don?" said Jerry.
"Jerry," said Don. "I just finished the book. Trying to figure out what to write now."
Another year after that phone call Don's wife dialed Jerry to tell him Don had passed and to thank him for giving the entire family almost two more years with the man they loved so much.
"I'm going to write a book," reported Antil. "This inspires me. I don't know what it'll look like."
Antil's Hemingway training of writing 'what you know' inspired him to pen One More Last Dance - a story of an aging retired army captain who was given two months to live - three months before the book starts. "A black friend for fifty years taught me everything I know about jazz and the blues," said Antil. "So I decided to make my main character black - Gabe - a jazz lover, using my black friend's voice."
Antil discovered in his research that although he was raised in upstate New York - the family name, Antil - was once an Acadian Anctil - before migrating from Normandy through Canada into the U.S. Antil uses his own voice for the character Peck and takes the adventure along with accurate Cajun dialect (Antil studied for a year) into Southern Louisiana.
Now Millennial's, among others, are reading One More Last Dance and leaving 5 STAR reviews. "They love the story and the good clean sex," quips Antil.
"The characters are genuine, endearing and charismatic; and the reader becomes fully immersed
And some parts (you'll see what I mean) left me breathless!" ~ Amy Garber
"I love Sasha's character. She's very inspiring, and a lot of young girls need more strong lady characters to be inspired by. Sasha is a perfect example of that kind of character. The type of lady who is the queen of her castle." ~ Marina G. (age 21)
"Peck provides a series of exciting adventures as they travel on their way to fulfill Gabe's dying wish of attending the Newport Jazz Festival." ~ Judith Sullivan
"Peck and Millie are such free spirits, very Bonnie and Clyde in one scene.
In all the book kept me on my toes , I visualized everything, as I was reading and I was never disappointed ." ~ Lexi Atwood (age 21)
"What a marvelous novel! It's heartwarming, funny, poignant, and has some of the most memorable characters I have ever met on the page. (And that's saying a lot.) The story totally engaged me from the first page all the way to its enormously satisfying finish." ~ Tom Hyman (A New York Times Bestselling author)
"I absolutely loved the Cajun themed thread and character development as the read progressed." ~ Steve Schaul
A brilliant story, wonderfully written. Super sexy and funny!" ~ Josh Poulakis