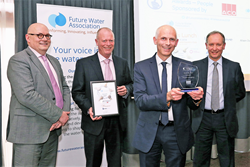 We thank the Future Water Association for recognising the efforts of the people at Water Direct who work so tirelessly to deliver resilience and quality every day
COLCHESTER, Essex (PRWEB UK) 19 April 2018
The Future Water Association is a business support organisation dedicated to the water sector, with an aim to shape the future of the industry through leadership, innovation and education. Recognised as one of the leading voices in the water sector, its remit is to enable growth and success and inspire the next generation.
Over the last 22 years, Water Direct has grown from a visionary idea by founder Keith Silcock to bring water contingency planning and resilience to mainstream industry. This ethos has been at the heart of Water Direct's evolution into a trusted national partner to the majority of the UK's water utility wholesalers and retailers.
The award follows one of the UK's most challenging national water supply crises in March 2018. Following extreme weather conditions created by the Beast from the East and Storm Emma and the subsequent rapid thaw, many of the water utility companies across the country experienced multiple burst pipes.
Over one week, Water Direct supported eight regional water wholesalers and five national water retailers, arranging delivery of four million litres of bottled drinking water, and pumping more than seven million litres of water from 200 tanker deliveries.
Jonathan West, Managing Director at Water Direct said, "This prestigious award follows an unprecedented year of growth for Water Direct and recognises the hard work and dedication demonstrated by our team."
"None of this would have been achievable without the people who contribute to the day to day operations of the business every single day of the year. During the recent extreme weather conditions, our team worked around the clock to deliver drinking quality water to homes and businesses across the UK. Their dedication, and the multi-million-pound ongoing investment in our infrastructure enabled us to respond quickly and effectively when much of the UK was at a standstill."
"We thank the Future Water Association for recognising the efforts of the people at Water Direct who work so tirelessly to deliver resilience and quality every day."
Editor's notes:
With nationwide coverage and 24/7 service, Water Direct provides planned and emergency temporary water wherever and whenever it's needed.
Water Direct's services range from supporting utility companies experiencing an interruption due to a burst main or contamination to building sites in need of water for welfare or site processes or private individuals in need of a swimming pool fill.
The company has been running for 22 years. In 2017 alone Water Direct delivered over 50 million litres of water to their customers.
Water Direct was one of the first UK businesses to achieve ISO 22301:2012 by developing contingency planning for water loss.
http://www.water-direct.co.uk