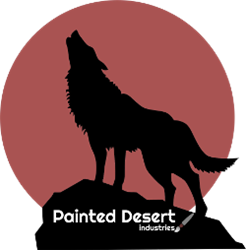 "Contractors work hard, long days. We want to provide them with a comfortable spacious home environment where they can relax when they finish work for the day, and know that their equipment is secure and safe." - Tony Lopes Owner and Manager
CARLSBAD, N.M. (PRWEB) April 19, 2018
Painted Desert Industries is excited to announce its Grand Opening of a Temporary Work Housing and Storage Location for contractors in the Carlsbad, New Mexico area.
They are offering lots approx ½ acre in size, featuring professional fencing, two vehicle carports, RV hookups, and portable storage units. One-bedroom park model, move-in ready, homes can be made available to rent upon request. Owner and manager Tony Lopes shared that, "We tried to think of everything that a contractor would need, from space for their equipment, to security through solid fencing, security cameras, and double security gate, to a safe place to store their vehicle away from the burning sun and golf-ball sized hail."
In addition to these structural features, the monthly rent for the lot includes the following utilities: water, sewer and electricity. Lopes shared that residents have been raving about the water quality and availability, "Water is precious in the desert. We have installed a state of the art filtration system to remove unpleasant odors, and hardness, which provides excellent quality drinking water."
As a contractor himself the idea for this specialized storage and housing occurred to Lopes, when he came to the Carlsbad area on a job. "Being a general contractor, I came to Carlsbad to start a job, and found that not only were all of the hotels booked up, there was nowhere to store tools and equipment. Every night after a long day of work we had to unload our tools and equipment and haul them into our hotel room for safety. Some tools were too big to bring inside and were at risk of being stolen."
This unique housing option comes at a time when housing is desperately needed in the Carlsbad, NM area, which has seen dramatic growth over the past few years. Due to the booming oil industry, contractors and workers have been coming to the area to work, but are struggling to find housing. The occupancy rates for local apartments and RV parks are close to 100%, which has led to Hotels being full even with prices reaching $300 per night. A news organization KRQE interviewed Shannon Carr, the Carlsbad Development Coordinator who said, "We've had several housing studies done over the last few years. In between all of them they've requested us to recruit about 9,000 units of housing. "
This new housing opportunity differs from other current options in which companies rent out very small plots of land for temporary workers to live in an RV. These facilities, often called "man camps" by the locals, are very densely populated, with little land, and cramped living conditions. In contrast, this new approach to temporary worker housing has lots that start at ½ acre in size. "I know from experience that contractors work hard, long days," Lopes continued. "We want to provide them with a comfortable spacious home environment where they can relax when they finish work for the day, and know that their equipment is secure and safe."
Current clients chose this option based on security and need for peace of mind to know their equipment wouldn't be stolen or tampered with. One resident said, "Couldn't believe my luck that I found this setup. This is exactly what I needed to both protect my trucks and have a pleasant place to live."
To learn more about this revolutionary approach to temporary worker housing, please visit https://carlsbadcontractorstorage.com/ or call (505) 681-7526. Staff are fluent in English and Spanish. They are conveniently located 11 miles North of Carlsbad on 285, towards Artesia, and provide flexible housing options with long and short-term leases available.