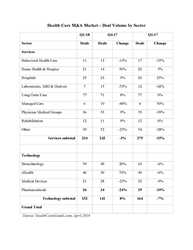 NORWALK, Conn. (PRWEB) April 19, 2018
Health care merger and acquisition activity in the first quarter of 2018 kept pace with the previous quarter in 2017. Compared with the fourth quarter of 2017, deal volume increased 1%, to 386 transactions. However, deal volume was down 12% compared with the same quarter the year before. Combined spending in the first quarter reached $112.9 billion, a decrease of 2% compared with the nearly $115.0 billion spent in the previous quarter, according to HealthCareMandA.com. Thanks to the announcement of a multi-billion-dollar deal in Q1:18, deal value rose 90% compared with $59.6 billion spent in Q1:17.
Health care services represented 61% of the first quarter's transaction total, lower than the 62% share reported in the previous quarter and the year-ago quarter (both 63%). The slight decrease is due to starkly lower M&A activity in four of the services sectors, Laboratories, MRI & Dialysis (-53%), Managed Care (-40%), Other Services (-25%) and Behavioral Health Care (-15%), versus the previous quarter. Those losses were offset by a 50% increase in deal activity in the Home Health & Hospice sector, and modest increases in the Hospital, Physician Medical Groups and Rehabilitation sectors (all +9%). The Long-Term Care sector, which has seen a marked decrease in deal making in some sub-sectors, managed to increase 8% in Q1:18.
On the technology side, transaction growth was strong in the Biotechnology (+20%) and eHealth (+53%) sectors, compared with the previous quarter. However, M&A activity in both sectors was lower than the year-ago quarter, down 6% in both sectors. The Medical Devices and Pharmaceuticals sectors were markedly lower compared with the fourth quarter, down 25% and 24%, respectively.
"The first quarter was dominated by Cigna's announced acquisition of Express Scripts, for $67 billion. That followed CVS Health's $77 billion deal for Aetna, announced in the fourth quarter of 2017," said Lisa E. Phillips, editor of HealthCareMandA.com. " Although Cigna's deal certainly increased spending in the first quarter, the deal isn't the game-changer that we're expecting if the CVS/Aetna merger goes forward."
The real disruption in 2018 could come from the talks between retail giant Walmart and Humana, reported in March 2018 by The Wall Street Journal. "If that deal closes, U.S. healthcare becomes a retail product, and delivery of non-urgent care moves from the emergency room to Main Street," Phillips added.
For more information on the HealthCareMandA.com investment research source, or for a membership to any of Irving Levin Associates' services, please call 800-248-1668. Irving Levin Associates, Inc., established in 1948, is headquartered in Norwalk, Connecticut and is online at http://www.levinassociates.com. This privately held corporation publishes annual and quarterly research reports, monthly and weekly newsletters, and maintains merger and acquisition databases on the health care and senior housing markets. If you would like to receive future releases, please email pressreleases(at)levinassociates(dot)com.