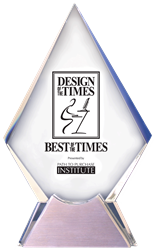 CHICAGO (PRWEB) April 20, 2018
The Path to Purchase Institute is now accepting entries for its 2018 Design of the Times competition, which celebrates the most effective in-store displays and digital activations and recognizes their critical role in shopper marketing initiatives.
This year, the Design of the Times celebrates 25 years of honoring brand manufacturers, P-O-P and packaging firms, agencies, retailers and path-to-purchase companies for their outstanding in-store solutions.
Submissions in the Design of the Times are classified into one of 13 retail channels: consumer electronic stores, convenience stores, dollar stores, drug stores, home centers/hardware stores, mass merchants, liquor stores, office supply, pet stores, specialty stores, sporting goods, supermarket/grocery stores or warehouse. Entries also fall into one of 18 activation tactics including counter displays, interactive kiosks, end caps, freestanding displays, digital signage and mobile solutions.
Entries are judged by leading consumer product manufacturers, retailers and top industry executives from the Forum of Merchandising Executives in two phases. The first round of judging takes place July 11 in Chicago to determine the finalists, which will then be displayed in front of thousands of industry peers in the Design of the Times Gallery at the Path to Purchase Expo (P2PX), October 2-4 in Minneapolis. Final judging occurs October 2 at P2PX, with the Platinum and "Best of the Times" winners being announced live from the keynote stage on October 4.
The competition fee is $549 per entry ($499 for Institute members) and the entry deadline is June 1. A late deadline of June 8 exists for an increased fee. For more information and to enter, visit http://www.dot-awards.com.
About the Path to Purchase Institute
The Path to Purchase Institute is a global association serving the needs of retailers, brands and the entire ecosystem of solution providers along the path to purchase. It champions shopper-centric thinking and practices that help define the ongoing evolution of consumer marketing and the overall shopping experience.