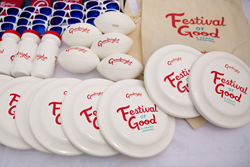 AUSTIN, Texas (PRWEB) April 19, 2018
Today, Goodnight Ranch announces the details of their second annual Festival of Good, a block party-style event celebrating all the "good" things in Austin on Saturday, May 19th from 11 a.m. – 3 p.m. Taking place within, Goodnight, the southeast Austin residential community off Slaughter Lane, the family-friendly event is free and open to the public and will feature 24 local vendors - offering everything from handmade leather goods to apothecary products to purchase, to dog adoptions and face painting. Attendees can also enjoy local food trucks, play yard games and listen to live music - all manifesting the live, work, play aspects of the Goodnight community.
This year's event builds and expands upon the success of last year's inaugural Festival of Good, which also celebrated the grand opening of the mixed-use, master-planned community. The Goodnight community continues to grow with 127 homes sold, paved side-walks, two built-in pocket parks, with an amenity center and development to Onion Creek Metropolitan Park coming soon.
Featured vendors and activities at this year's Festival of Good to include:

Shop local purveyors like Noah Marion leather goods, delicious Uncle Ray's Peanut Brittle, Turkish rugs sourced by Austin Rugs Co., handmade soaps, and apothecary products by Benjamin Soap Co., ceramics by ATX Settle Ceramics, and a mobile boutique from Fringe and Flair.
Listen to live music by two local bands, Tanya and The Dirty Mercy, and Leeann Atherton.
Kid-friendly activities like face painting and touring the Austin Public Library's Bookmobile.
Adopt a pup from Austin German Shephard or Short Mugs Rescue Squad or learn more about Emancipet, a low-cost veterinary clinic.
Food and sweet treats from Wholly Cow and Rosarito, Kona, and Luv Fats Ice Cream. Food and beverage will be available for purchase.
Stay caffeinated with complimentary Chameleon Cold brew.
Giveaway and goodie bags for the first 100 attendees with local snacks and a special takeaway thanks to Stick with it Co, and Benjamin Soap Co.
While attendees enjoy Festival of Good, they will also have the opportunity to tour model homes from Centerra Homes and M/I Homes and can explore built-in pocket parks and greenspaces within the community. This former ranch is now transformed into a vibrant, walkable, tree-lined urban hub for residents to enjoy and the new build community offers homes for residents at every stage of life, from single-family homes by Centerra and M/I Homes, to townhomes by AVI Homes and multi-family apartments by Urbana coming later next year.
About Goodnight
Goodnight is a mixed-use neighborhood set to transform a former ranch in southeast Austin into a vibrant, walkable, tree-lined urban hub. The 700-acre site will be developed over 10 to 15 years and is expected to include over 3,500 homes; a mixed-use town center; sites for two Austin Independent School District schools – Blazier Elementary and a future Blazier Middle School; 226,000 square feet of retail space; Goodnight Commons, more than 120 acres of open space; and landscaped streets designed to integrate a safe network of bike paths, trails and sidewalks. The first phase of the project, the northeast quadrant, is adjacent to Slaughter Lane and includes a mixture of single-family homes and condominiums, a community park, and Blazier Elementary School. For more information, visit http://www.liveatgoodnight.com.