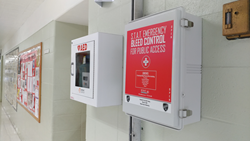 "The idea is to keep as much blood in the body as possible and keep that person from losing the amount of blood it would take to get to irreversible shock. Once you apply a tourniquet you do not remove it until EMS comes to take over", says Chris from Rhino Response.
HIGHLAND, Ind. (PRWEB) April 19, 2018
With the rise of mass shootings in the United States and stabbings in the U. K., professionals have been urging civilians to get basic medical training and know what they can do to increase the odds of survival.
A White House initiative called "Stop The Bleed", was created in 2015 to help teach civilians the importance of basic Bleed Control and tourniquet use during an emergency. When correctly applied, a tourniquet is a key factor in life or death when bleeding out from a traumatic injury.
In the wake of the recent tragedies across the country, Chris from Rhino Response and Tom from Free Field Training decided to do something about it . They decided to team up with S.T.A.T. Medical Devices and together donated to the faculty of Old Lady of Grace Grammar School in Highland, Indiana, a public access bleed control station and training. The Principal Mr. Topp was ecstatic to get the training and tools needed to keep there faculty and students safe from traumatic life threatening injuries.
The MCI bleed control station comes equipped with six tear away pouches each containing a state of the art S.T.A.T. Tourniquet which can be used on adults and children of any age. S.T.A.T. Tourniquet can be adjusted in 2mm increments to avoid overtightening on small children and is designed with an automatic childproof locking system.
Tourniquets once a demonized medical device of the past have been making a popular comeback in recent times as a proven life saving device. Hypovolemic shock can occur in as little as 3 minutes and it's extremely important that everyone takes the time to learn these simple techniques like applying pressure and making improvised tourniquets in the event they don't have access to commercially available tourniquets.
Rhino Response also provides training for mass casualty events that could realistically require the use of a tourniquets and is a certified instructor for American Red Cross First Aid/CPR.
For more info on getting trained contact: rhinoresponse@gmail.com or info@statmeddevices.com