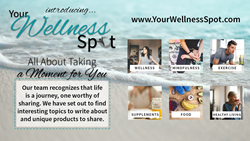 "Passionate about your health," says Chris Jackson.
OLATHE, Kan. (PRWEB) April 20, 2018
NCES, Inc. announces its launch of http://www.YourWellnessSpot.com, a consumer facing website that focuses on an emerging wellness culture. The website offers blogs from members of the wellness community related to nutrition, exercise, experiences and tested products. As a leading distributor for nutrition and exercise resources, NCES has traditionally served government programs, schools, healthcare, nutrition professionals. The Company has a strong reputation for quality content and materials.
Chris Jackson, CEO of NCES, recognizes the enormous task ahead. She has spent the majority of her career exploring ways to help individuals and families adopt healthy behaviors. "Nutrition education should begin in early childhood, because healthy behaviors are formed at a young age." Jackson says. "But, too often, kids are becoming adults without great habits."
Jackson especially enjoys working with school programs, but budgets are ever slim for nutrition and fitness education programs. Jackson has seen the needs of the market shift, and applauds the efforts of hospitals, universities and employers for stepping into wellness. "Ultimately, it's more difficult to make change as adults. It requires strong personal commitment and discipline when choosing healthy," says Jackson.
Some might ask, what does Wellness even mean? For Jackson, it's about being at your best, at any age and with any set of physical challenges. Daily behaviors related to nutrition, fitness and lifestyle choices are critical in achieving overall wellness and vigor.
"It's deciding to take a 30 min walk everyday," says Jackson. "That decision is not always simple. For some, it comes easily, and for others it's a real challenge with current health conditions." Jackson believes http://www.yourwellnessspot.com is part of doing well and doing good in business. The Wellness marketplace has surpassed $3.72 trillion in spending, worldwide. Nutrition and weight management makes up $650B, and when combined with Fitness-Mind-Body exceeds $1 trillion in size.
NCES, Inc. is a national, distributor of health, nutrition and exercise resources and materials used by professionals in serving education programming and offering health promotion materials. NCES offers products targeting children, youth, adults and elderly. Some materials are offered in multiple languages.
For more information about Your Wellness Spot or NCES, Inc. visit them at the social media links below.
NCES Facebook
NCES LinkedIn
Your Wellness Spot Facebook
Your Wellness Spot LinkedIn
KC Company targets the BIG Business of Wellness
Distributed By: NCES, Inc.
Contact Person: Cody Burgess, cody(at)bcreativekc(dot)com