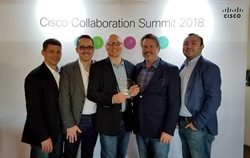 "We are honored to receive this award from Cisco. Vbrick looks forward to strengthening our relationship and to helping our joint customers solve their digital transformation challenges."
PHOENIX (PRWEB) April 18, 2018
Vbrick® today announced that it has been recognized as Cisco's Global Independent Software Vendor (ISV) Ecosystem Partner of the Year for 2018. The award was unveiled at Cisco's Collaboration Summit taking place this week in Phoenix, Arizona.
Awarded to channel partners who deliver highly differentiated and business-relevant solutions, the Global ISV Ecosystem Partner of the Year award also recognizes partners who drive compelling value for customers and are closely aligned with Cisco's strategic vision.
Working closely with Cisco, Vbrick has positioned itself as a key element in Cisco's overall next generation video strategy by providing a seamless way to deliver scalable, secure live webcasts from any Cisco collaboration product. The Vbrick Rev platform further enhances the Cisco meeting experience by recording meetings, making them available for easy playback in a secure, branded video portal, as well as embedding live streams and recorded content directly into the Webex Teams interface.
"It's been an amazing journey working with Cisco over the past three years," said Stefan Schober, Vice President of Business Development and Channel Operations at Vbrick. "From our selection as Cisco's go-to-market choice to replace their Show and Share solution, to getting placed on Cisco's Global Price List, and now being honored as the 2018 Global ISV Ecosystem Partner of the Year, Cisco and Vbrick are poised to dominate the enterprise video market. Our deep and seamless integrations with the entire Cisco collaboration stack enables Cisco customers to extend the value of their collaboration investments by using video to improve employee and customer satisfaction, engagement, productivity and retention." Schober continued, "We are honored to receive this award from Cisco. Vbrick looks forward to strengthening our relationship and to helping our joint customers solve their digital transformation challenges."
Vbrick is listed on the Cisco Global Price List, which enables Cisco and its resellers to deliver Vbrick Live Streaming, Video Management and Cloud Recording solutions as easily and simply as any Cisco hardware or software product.
About Vbrick
Vbrick believes in the power of video to transform the workplace. Its Rev® enterprise video platform removes the technology and pricing restraints that have held business back from tapping video's clear advantage to persuade, inform and compel people, wherever they are. Visit vbrick.com.
Vbrick and Rev are trademarks of Vbrick Systems, Inc., USA.
About Cisco
Cisco is the worldwide technology leader that has been making the Internet work since 1984. Our people, products, and partners help society securely connect and seize tomorrow's digital opportunity today. Discover more at newsroom.cisco.com and follow us on Twitter at @Cisco. Cisco and the Cisco logo are trademarks or registered trademarks of Cisco and/or its affiliates in the U.S. and other countries. A listing of Cisco's trademarks can be found at http://www.cisco.com/go/trademarks.