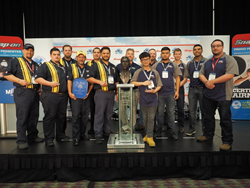 HOUSTON (PRWEB) April 19, 2018
Students from the Aviation Institute of Maintenance (AIM) won first place in the School Category at the recent Aerospace Maintenance Competition, presented by the Aerospace Maintenance Council in Orlando, Fla. on April 9-12, 2018. The Council is a non-profit organization that promotes and supports the aerospace maintenance community, and the annual competition raises awareness of the knowledge and skill required to maintain safe, airworthy aircraft worldwide.
This year, 72 teams competed over three days in a range of 28 different aviation maintenance technology skills. 48 teams competed in the Professional Technician Category, and 24 teams represented aviation maintenance schools in the School Category.
The Aviation Institute of Maintenance (AIM) sent two teams from its campuses in Dallas and Houston to participate in the competition, with both teams taking home honors in various categories.
The five-member team from AIM's Houston campus, coached by instructor Mike Riccardelli, took first place overall in the AMC School Category, beating all other school teams in the competition. This improved upon AIM's record from the 2017 competition, where the Houston students took second place. Additionally, team members Cordero Garcia (captain), Joshua Borel, Fernando Viertons, Brandon LaMora, and John Davis won first place in the following events:

Augmented Reality (Borel and Viertons)
Fuel Take Entry (LaMora and Davis)
Magneto (Borel)
Torque Procedures (LaMora)
Fastest Time for Wheel & Brake (Garcia, Viertons, LaMora)
For winning first place in the School Category, each team member received tools valuing $900, and the Houston campus was awarded a safety cable kit and additional tools from SONIC Tools and Snap-On.
The five-member team from AIM's Dallas campus, coached by Kyle Schwarz and including team members Nolan Glahn, Jordan O'Neal, Julian Barrera-Perez, Oscar Castillo and John Le, won fastest time in the Pratt and Whitney Geared Turbine Fan event, which entailed removal, inspection, gap, reinstallation, and torqueing of the spark plugs on a Pratt & Whitney Wasp Jr. radial engine. For winning this event, the team won a Pratt & Whitney Training Scholarship to the Pratt & Whitney facility in Connecticut. AIM plans to send additional teams from its 12 campuses nationwide to the AMC event next year.
About Aviation Institute of Maintenance
Aviation Institute of Maintenance (AIM) is a network of aviation maintenance schools with campuses coast-to-coast across the United States and headquarters located in Virginia Beach, Va. AIM students are trained to meet the increasing global demands of commercial, cargo, corporate and private aviation employers. AIM graduates are eligible to take the FAA exams necessary to obtain their mechanic's certificate with ratings in both Airframe and Powerplant. AIM's campuses are located in the following major metro areas: Atlanta, Philadelphia, Dallas, Houston, Indianapolis, Las Vegas, Washington, D.C., Kansas City, Mo., Oakland, Calif., Orlando, Fla., and Norfolk, Va. AIM plans to open a campus in the Charlotte metropolitan area in 2018. Learn more at: http://www.AviationMaintenance.edu.