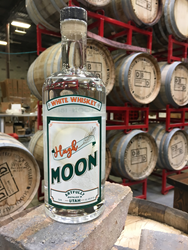 Wherefore a commandment I give unto you that you will not purchase wine neither strong drink from your enemies, you shall only partake in that which is made among you.
Salt Lake City, UT (PRWEB) April 19, 2018
Renowned in the industry for its integrity and impartiality, the San Francisco World Spirits Competition(SFWSC) has become one of the most respected and influential spirits competitions in the world. Products awarded a Gold medal are exceptional. They are near the pinnacle of achievement in their particular category. They are products that set the standard for all others of their type. It is with great satisfaction that Dented Brick announces a Gold Medal win for our Hugh Moon 100% Rye Whiskey. Hugh Moon is the first in a series of labels based on stories of authentic and true western characters. Look for more of these historic themed releases in the near future.
In addition to this prestigious award, Dented Brick was awarded the Silver Medal for it's Well Gin and Well Vodka releases, and a Bronze Medal for our Well Rum. Products awarded a Silver medal are outstanding in their category. They show refinement, finesse, and complexity. They are among the best examples of their particular category.
These new releases will be launched at the 75th Annual WSWA Convention & Exposition in Las Vegas. Please join us in Milano 2 Ballroom for a tasting and judge for yourself!
This was the 18th San Francisco World Spirits Competition; it was founded in 2000 as a way to recognize exceptional products in the spirits industry. The 2018 Competition was the biggest in its history, featuring more than 2,200 entries. The SFWSC is considered to be the most influential spirits competition in the world! Medal winners represent some of the finest products from around the world. An SFWSC medal has become a recognized affirmation of high quality and one of the most reliable and universal indications of spirits excellence!
The Competition's Executive Director is Anthony Dias Blue, author, editor, publisher, and one of the most influential food,
wine, and spirits writers and lifestyle personalities in the U.S.A. The Director of Judging is Tony Abou-Ganim, The Master
Mixologist, and one of the leading pioneers of America's craft cocktail movement. More information about all SFWSC's 2018 judges can be found at sfspiritscomp.com/judges.
Gold
GOLD MEDAL, Dented Brick Distillery Hugh Moon 100% Rye White Whiskey, Utah, USA [40%] $27.
Silver
SILVER MEDAL, Dented Brick Distillery Well Vodka, Utah, USA [40%] $12.
SILVER MEDAL, Dented Brick Distillery Well Gin, Utah, USA [40%] $12.
Bronze
BRONZE MEDAL, Dented Brick Distillery Well Rum, Utah, USA [40%] $12.
Like us on Facebook https://www.facebook.com/dentedbrickdistillery/