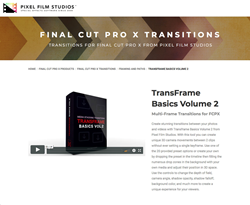 "TransFrame Basics volume 2 features incredible multi-frame transitions that are perfect for any photo slideshow to create a professional look and feel!"
ALISO VIEJO, Calif. (PRWEB) April 20, 2018
Create stunning transitions between photos and videos with TransFrame Basics Volume 2 from Pixel Film Studios. With this tool creating unique 3D camera movements between 2 clips without ever setting a single keyframe has never been easier! Use one of the 20 provided preset options by dropping the preset in the timeline then filling the numerous drop zones in the background with media and adjust the position in 3D space. Use the controls to change the depth of field, camera angle, shadow opacity, shadow falloff, background color, and much more to create a unique experience.
Twist, turn, slide, sweep, and rotate through a stack of media without ever setting a single keyframe in Final Cut Pro X. TransFrame Basics Vol. 2 comes with 20 preset animations that give the user full control over each one. Simply move the 2 frames in any position via the FCPX Inspector Window and let TransFrame Basics Vol. 2 do the rest.
Each of the 20 preset transitions contains multiple drop zones in the background that provide options to insert media into. Final Cut Pro X users can add photos and videos to each of the drop zones to create a customized look. Each drop zone is adjustable in 3D space and can be moved or rotated.
TransFrame Basics Vol. 2 comes with built-in controls for each preset. Users can easily adjust the drop zone layout, background color, background image, scale, depth of field, camera shake, and much more with just a few clicks of the mouse.
TransFrame Basics Vol. 2 features ambient lighting. Completely control the falloff, shadow, and environment lighting with simple sliders that can be found in the inspector window. Lower the falloff amount and darken the shadows to moody scene. Alternatively, create a lighter scene by choosing a vibrant background with softer shadows. The possibilities are endless with TransFrame Basics Vol. 2.
Established in 2006, Aliso Viejo, California-based Pixel Film Studios is an innovative developer of visual effects tools for the post-production and broadcast community. Their products are integrated with popular non-linear editing and compositing products from Apple FCPX. Apple, the Apple logo, Mac OS X, and Macintosh are registered trademarks of Apple Inc. in the U.S. and/or other countries. All other trademarks and trade names are the property of their respective owners.