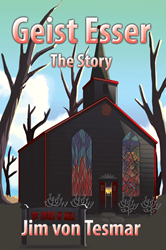 ABERDEEN, S.D. (PRWEB) April 23, 2018
A South Dakota-based writer and retired Presbyterian church lay minister has released his debut fiction book that unravels the thrilling story of two men who become ensnared in a mysterious spiritual epidemic in which peoples' souls are being snatched from their bodies by unknown perpetrators.
In "Geist Esser: The Story," Christian author Jim von Tesmar follows the journey of protagonists Matthew Thomas and Luther St. Johns. Four decades after witnessing a dying man gasp the word "anima" with his last breath, Thomas and St. Johns find themselves searching for the meaning behind the word. As they delve further into the peculiar phrase, the duo discovers that people are having their souls extricated from their bodies while they are still alive by "soul eaters" – otherwise known as Geist Essers.
"Through this book, I hope to entertain, educate and keep readers on the edge of their seats," von Tesmar said.
An intricate and faith-focused examination of human spirituality, "Geist Esser: The Story" presents a compelling fictional exploration of how individuals shed their souls when they die and highlights the importance of being Christian in a world where goodness is not always enough to save one's soul.
"Geist Esser: The Story"
By Jim von Tesmar
ISBN: 978-1-5434-5429-1 (hardback); 978-1-5434-5430-7 (paperback); 978-1-5434-5431-4 (electronic)
Available at the Xlibris Online Bookstore, Barnes & Noble and Amazon
About the author
Jim von Tesmar is a retired Presbyterian church lay minister and holds a bachelor's degree in comprehensive business education from Kent State University. He currently resides in Aberdeen, S.D. To learn more, please visit http://www.geistesserstory.com.
###
Review Copies & Interview Requests:
LAVIDGE – Phoenix
480-648-7557
dgrobmeier(at)lavidge(dot)com
General Inquiries:
LAVIDGE – Phoenix
480-998-2600 x 584
mdriver(at)lavidge(dot)com