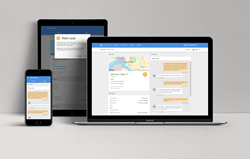 The new funding and marketing agreement will further Agentology's growth as it redefines the sales funnel for time-strapped real estate agents by giving them the power of an on-demand inside sales team.
SAN DIEGO (PRWEB) April 24, 2018
Agentology, the leading sales productivity platform for real estate agents, today announced that it has received $12 million in Series A funding to enhance its already robust lead qualification process and referral network. The funding round was led by Defy.vc, with participation from existing investors including Freestyle Capital and Moderne Ventures, a major real estate technology fund. Silicon Valley Bank, Simplexity Ventures, and OurCrowd also participated. With the new financing, Trae Vassallo, Co-founder and Managing Director of Defy.vc, will join Agentology's board.
In addition to its funding, Agentology also announced that it has signed a marketing agreement with Realogy, a global franchisor of some of the most recognized brands in the real estate industry, including Coldwell Banker Real Estate, CENTURY 21®, ERA Real Estate and Better Homes and Gardens® Real Estate, to bring a better consumer experience and increase sales productivity to its 192,000 agents nationwide.
The new funding and marketing agreement will further Agentology's growth as it redefines the sales funnel for time-strapped real estate agents by giving them the power of an on-demand inside sales team. Agents cannot keep up with the barrage of cold, un-scrubbed leads that come through sites like Zillow, Realtor.com, Trulia, Facebook, and Google, yet they spend more than $10 billion a year on these sites to market themselves and meet new clients.
"For real estate agents, time is their most valuable resource and they work in a world where consumers expect their attention and instant response 24/7. They need to leverage technology and services to meet stringent demands and maximize their productivity," said David Tal, CEO and co-founder of Agentology. "Agents are 21 times more likely to convert cold leads into clients if they engage within the first five minutes of those leads reaching out, but most agents don't have the bandwidth to make that happen. Many need hours, sometimes days, to comb through their lead flow, respond, and follow up, losing lots of potential clients in the process. Agentology is committed to helping agents solve this problem by giving them the power of having their own, on demand, inside sales team, that's always on, and never lets a client slip through the cracks."
With its new round of funding, Agentology will offer expanded services for larger teams and brokers and streamline the technology for faster response times and higher returns across the sales spectrum. Named in 2017 by San Diego Business Journal as one of the best places to work and one of the fastest growing companies in San Diego, Agentology grew from 30 to 140 employees in the past year and plans to use the funding toward further hiring.
Agentology also includes a built-in referral network that has closed $1 billion in transactions. The network allows agents to monetize the leads they can't take on themselves and refer them to other agents in their markets. According to the National Association of Realtors, 45 percent of internet leads never receive a response. Rather than ignoring leads agents don't want or can't handle, they can refer them with the click of a button. Agentology pays out a 25 percent referral fee for each closed referral.
"We invest in authentic entrepreneurs solving problems they understand better than anyone else," said Trae Vassallo, co-founder and managing director of Defy.vc. "David and his team understand the real estate market and agents and they also know that connection and empathy with the customer really matters. Rather than automate the human experience out of the system, they are using technology to increase agent productivity for a better customer experience."
About Agentology
Agentology, based in San Diego, CA, is the most powerful lead-qualification service for real estate agents in the U.S. Agentology gives agents the power of having their own inside sales team to qualify and convert their cold web leads into hot prospects and help them refer and monetize the leads they don't want or can't handle. The company is a pioneer in the growing service category of inside sales assistants, concierges, and other lead qualification services. Agentology is working with thousands of top agents and teams and growing rapidly.
Learn more about Agentology at https://www.agentology.com/.