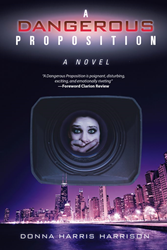 LOS ANGELES (PRWEB) April 23, 2018
Following two women whose lives become entangled during a clandestine mission to expose sexual corruption, entertainment industry executive and four-time Emmy-winner Donna Harris Harrison's debut novel, "A Dangerous Proposition," is a provocative thriller that transports the reader into the captivating arena of entertainment production with rare authenticity.
Julianne Sloan is a fierce producer whose life is dominated by her career. Elisa Adams is a determined mother who is oppressed by an abusive husband as she grapples with the choice of holding her family together or fighting for personal fulfillment. Both women are determined to triumph over intimidation to achieve their objectives: love, integrity, freedom, passion and empowerment in their careers and personal lives.
"I succeeded and advanced in the entertainment industry at a time when very few women held senior management roles and understand the nuances of managing business politics to elevate one's career and facilitate success in a male dominated industry," said Harrison. "As a producer, the stories of victims I interviewed at various stages of their journey to find happiness and regain self-reliance and self-esteem touched my heart and lingered in my mind."
In her book, Harrison illuminates issues of gender inequality and sexual impropriety through a prism of compelling female characters. Moreover, it challenges readers to analyze their own viewpoints on victimization, lust, domination and self-empowerment. With an ideal personal and professional background to confront the critical and timely social issues addressed in "A Dangerous Proposition," Harrison offers strong, credible insights to help inspire women and shed light on issues close to her heart.
"A Dangerous Proposition"
By Donna Harris Harrison
ISBN: 978-1-5320-2472-6 (softcover); 978-1-5320-2474-0 (hardcover); 978-1-5320-2473-3 (eBook)
Available through the iUniverse Online Bookstore, Barnes & Noble and Amazon
About the author
Donna Harris Harrison is a four-time Emmy-winning television producer who has worked with NBC, FOX, Paramount and Lifetime. Her credits include a documentary focused on the crisis of domestic violence as well as a broad spectrum of programming targeted toward women. Now living in Los Angeles with her husband and daughter, she remains entrenched in the entertainment industry. To learn more, please visit http://www.adangerousproposition.com.
Review Copies & Interview Requests:
LAVIDGE – Phoenix
Danielle Grobmeier
480-648-7557
dgrobmeier@lavidge.com
General Inquiries:
LAVIDGE – Phoenix
Bryan Beach
480-306-6554
bbeach@lavidge.com