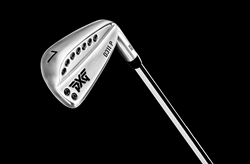 "GEN2 irons are insane. After being fitted, I got about seven yards extra distance and had zero bad shots during my first round with the clubs."
SCOTTSDALE, Ariz. (PRWEB) April 19, 2018
U.S. based, luxury-performance golf brand PXG has officially released its next generation of iron technology.
Three years in the making, PXG 0311 GEN2 Irons are now available in 42 countries through a world-class custom fitting experience. Presented in four collections – Tour (T), Players (P), Xtreme Forgiveness (XF) and new Super Game Improvement (SGI) – PXG 0311 GEN2 Irons are designed to meet the needs of golfers regardless of age, gender or ability.
"GEN2 irons are insane," shared PXG customer Dan Doyle. "After being fitted, I got about seven yards extra distance and had zero bad shots during my first round with the clubs."
Originally revealed in early March, 2018, PXG's new irons have received similar accolades from other PXG customers, media and tour professionals.
"It literally took me two shots to fall in love with these irons," said eight-time LPGA TOUR champion Anna Nordqvist. "The first shot felt amazing, it was almost too good to be true. The second shot proved that I wasn't dreaming."
Forged from 8620 soft carbon steel, for enhanced aesthetics and durability over time, PXG 0311 GEN2 Irons have the sleek look of a blade and a buttery-soft feel.
Each club also features a hidden cavity injection molded with new COR2 Technology, a proprietary vibration dampening material with explosive C.O.R. (coefficient of restitution) properties. Combined with PXG's new internal face perimeter cut-out design, COR2 Technology helps deliver higher ball speeds, a more consistent response, outstanding mishit performance, unmatched accuracy, and longer distance.
To maximize performance and deliver extreme forgiveness, PXG 0311 GEN2 Irons also utilize the world's thinnest club face and PXG's signature perimeter weighting technology.
"PXG GEN2 Irons improve on our already outstanding technology in every measurable way," said PXG founder Bob Parsons. "Custom fitted, the results speak themselves. These are the best irons we've ever made."
Engineered to be custom fitted and built to spec by hand, PXG 0311 GEN2 Irons are priced at $400 a club for Chrome and $500 for Xtreme Dark. Purchased through PXG, price includes a custom fitting with a highly-trained PXG Fitter, access to an extensive matrix of premium shafts and a wide array of grip options.
To learn more or to schedule a fitting, visit PXG.com.
ABOUT PXG
Parsons Xtreme Golf (PXG) was founded by American entrepreneur and philanthropist Bob Parsons in 2014. Leveraging breakthrough technology and sophisticated manufacturing processes that integrate high-performance alloys, PXG produces the finest golf clubs in the world. The company has more than 175 global patents issued for its proprietary designs.
PXG's professional staff includes PGA TOUR champions Zach Johnson, Pat Perez, Billy Horschel, Ryan Moore, James Hahn, Charles Howell III, and Charl Schwartzel, as well as Web.com Tour rookie and college golf sensation Wyndham Clark. The roster also includes two-time major champions Lydia Ko and Anna Nordqvist, U.S. Women's Open champion Brittany Lang, and LPGA Tour players Katherine Kirk, Austin Ernst, Christina Kim, Alison Lee, Ryann O'Toole, and Gerina Piller.
PXG offers a full lineup of right and left-handed clubs, including drivers, fairway woods, hybrids, irons, wedges and putters. For more information, visit PXG.com.