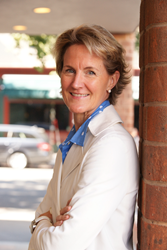 Engaging digital marketing materials, in-depth analytics and global reach are vital for the success of the modern sales team
SPOKANE, Wash. (PRWEB) April 19, 2018
Collabra Technology, Inc., an enterprise software company offering a collaborative, multilingual sales platform, has hired Heidi Dittloff as its business development director. Dittloff brings to this new role more than 20 years of sales and marketing experience in the real estate, banking and publishing industries.
In her new position with Collabra Technology, Inc., Dittloff will oversee business development for the firm, creating new partnerships and expanding current relationships. Collabra recently formed through the merger of technology innovators TourFactory, LLC and Proxio, Inc. Its platform uses a variety of rich media content to create digital marketing materials for real estate or other products and services, and makes these brand-approved materials accessible to all salespeople included within Collabra's worldwide network.
"We're offering real estate professionals a new approach to marketing and sales, moving them beyond the traditional marketing mindset. Engaging digital marketing materials, in-depth analytics and global reach are vital for the success of the modern sales team," said Dittloff. "Collabra's digital platform solves many of today's sales force challenges."
Prior to joining Collabra, Ditloff served as vice president of marketing for Alain Pinel Realtors in Northern California, overseeing all aspects of the brokerage's marketing and collateral from print to digital. She was previously marketing director for two separate real estate brokerages in New Jersey and Pennsylvania.
"Heidi's reputation and accomplishments in sales and marketing are considerable," said Janet Case, CEO of Collabra. "She will be an integral part of creating new business opportunities as we continue to grow the Collabra brand. We're fortunate to have Heidi on our team, and I look forward to implementing her ideas for promoting our collaborative and dynamic sales platform."
Ditloff has been elected to numerous boards and marketing committees throughout her career, and was recognized as Marketing Director of the Year in 2013 by the Shore Builder's Association of Central New Jersey for her exemplary advertising and marketing strategy.
About Collabra Technology, Inc.
Collabra Technology, Inc. licenses a proprietary enterprise collaboration platform that enables businesses to harness the power of their sales teams to amplify marketing to clients on a global scale. With Collabra, companies manage product information and media in one place using a multilingual platform that assures maximum accuracy and brand control through the entire sales channel. The Collabra platform integrates with customers' existing information systems and CRMs, providing real-time analytics and global visibility of the sales and marketing process. For more information, please visit CollabraTechnology.com.