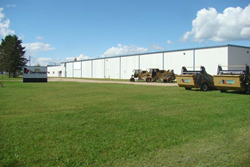 "The property is turnkey ready with staff available for rehire," Tyler Maas, Maas Companies said. "Buyers interested in exploring a pre-auction offer should contact the auction company. At auction, the real estate and equipment will be sold separately."
CLARISSA, Minn. (PRWEB) April 19, 2018
Cherrington Enterprises has sold their beach cleaning product line. The surplus real estate and metal working equipment will be sold via auction by Maas Companies at 410 Highway 71 East, in Clarissa, Minnesota on Thursday, May 24 at 10 AM. Maas Companies specializes in the liquidation of specialized assets for private companies, banks and lenders nationwide.
Cherrington Enterprises, a world leader in beach cleaning products, sold this product line to Kassbohrer Gelandefahrzeug AG of Germany, therefore the location and equipment are surplus. The assets are turn-key ready with staff available for rehire. The real estate includes a 39,407 square foot two-story manufacturing/warehouse building on 4.38± acres, applicable to many manufacturing or warehouse needs. The equipment will be sold piecemeal and includes over 300 lots of metal working, machine shop equipment and rolling stock.
Potential buyers are encouraged to view the property during the following days (other times by appointment):
Monday, April 30: 9 a.m. – 3 p.m.
Wednesday, May 23: 9 a.m. – 3 p.m.
Thursday, May 24: 8 a.m. -- 10 a.m.
Details of the sale are available at the auction website, maascompanies.com or by contacting the auction company directly at (507) 285-1444.