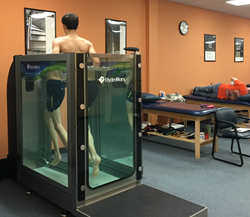 "We wanted to give even small and startup clinics the opportunity to be competitive and differentiate their clinic"
MIDDLETOWN, Pa. (PRWEB) April 25, 2018
HydroWorx, the globally recognized maker of the world's most advanced aquatic pools, announces a new modality designed especially for smaller rooms and locations. The HydroWorx 200 is a standalone rehabilitation unit for existing facilities needing only 100 square feet of available space. Created to fit through a standard 36" door frame, the HydroWorx 200 enables physical therapy professionals to economically offer clients the scientific advantages of hydrotherapy in a warm water environment.
Says Jim Grider, VP of Sales and Marketing, the innovation behind the HydroWorx 200 was a natural offshoot of the company's larger pools. "Over the past 20 years, many modest-sized facilities have asked us for a way to bring patients and customers the holistic value and benefits of aquatic therapy," he notes. "To help them serve their populations, we designed a compact unit that can offer the high-tech features of our larger pools used by professional and collegiate sports teams, along with top healthcare facilities."
The HydroWorx 200 is a vertical, transparent unit equipped with a treadmill floor. The underwater treadmill can reach speeds of up to six miles per hour. High-powered jets provide extra resistance for walkers, joggers and runners who wish to increase their VO2 max, as well as for clients with a desire to improve their balance and core stability.
Filling or draining the HydroWorx 200 takes fewer than three and a half minutes, making it convenient and safe for users to get the most out of their sessions. Water depths of up to 50" are available for variable unweighting levels depending upon patient height, mobility and desired results.
HydroWorx has priced its HydroWorx 200 unit significantly less than its other product lines. "We wanted to give even small and startup clinics the opportunity to be competitive and differentiate their clinic," adds Grider. "By adding a modality at this price point along with new rental options, we can truly say we have an aquatic solution for any need."
To learn more about the HydroWorx 200 and its sister products, visit the HydroWorx site at https://www.hydroworx.com/products/hydroworx-200/ for more information.
Since the late 1990s, HydroWorx has manufactured aquatic therapy products with integrated underwater treadmills to enable rehabilitation professionals to more effectively offer their patients the opportunity to increase range of motion, decrease risk of falls and joint stress, and remain motivated through the rehab process.
Products such as the HydroWorx 2000 and 500 Series, along with the HydroWorx 300 system have revolutionized the face of aquatic therapy; in fact, HydroWorx technology is used by world-class facilities such as OrthoCarolina, Cleveland Clinic, Kennedy Krieger Institute, Genesis Healthcare, Neuroworx, Clear Choice Healthcare, PruittHealth, Premier Rehab, Leg Up Farm and many other healthcare facilities across the country.
HydroWorx offers a wide range of underwater treadmill pools and peripheral products and services. Every day, more than 30,000 athletes and patients use HydroWorx technology to recover from injuries and health conditions.
More information about HydroWorx can be found at http://www.HydroWorx.com.