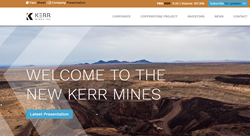 "The PFS provides an excellent starting point from which we can implement our strategy of increasing ounces and mine life. We believe that that we can increase mine life and have established a pathway to 1 Million oz's" CEO Claudio Ciavarella
Arizona (PRWEB) May 11, 2018
Pre-Feasibility Study: 40% IRR, Updated Resource and Gold Production in 2019
It has been an exciting start to 2018 for Kerr Mines [TSX:KER] [OTC:KERMF], we recently released the very positive results of our pre-feasibility-study (PFS), a key milestone objective for the Company. As an emerging American gold producer, we have now commenced the process of transitioning Kerr Mines into gold production and cash flow.
"The results of this PFS display the strong near-term production opportunity for the Copperstone Gold Mine and robust returns for our investors. This is just the beginning," says Martin Kostuik, President.
We are pleased today to provide you with a glimpse of our highly advanced gold project in the attached site visit video, and encourage you to subscribe to our Kerr Mines Newsletter.
"The impressive exploration upside displayed by the 2017 Phase I program, the historical production of over 500,000 gold ounces and the potential to generate solid positive cash flows by identifying the first four years of gold production, all point toward the opportunity of many more years, beyond the Study time frame, of profitable gold production. In fact, there are 100,000 gold ounces of M&I mineral resources that were not included in the P&P mineral resources, part of which are immediately accessible for drilling and potential inclusion." Kostuik continued.
"Furthermore, we shall continue our efforts to enhance shareholder value by pursuing other value-adding activities such as conducting an intense 2018 exploration program which is designed to increase mine life," concluded Kostuik.
Subscribe to Kerr Mines Gold Newsletter
Copperstone Gold MIne PFS Highlights (all values US$ unless otherwise noted):
Base case $1,250/oz gold;

Initial capital of $22.7 million which includes a mine equipment capital lease;
Study life operating margin (EBITDA) of $89M, Internal rate of return of 40%;
Payback of initial capital within 2.3 years of 2019 production start;
Recovery of gold averaging 95% using crushing, grinding and whole ore leach;
Average annual sales of 38,347 ounces gold;
Cash Operating Cost of $684 per gold ounce;
All-in Sustaining Cost ("AISC") of $875 per gold ounce;
Measured and Indicated ("M&I") Mineral Resources of 1,124,800 tonnes averaging 7.63 g/tonne gold;
276,100 ounces contained gold in M&I Resource;
Inferred Mineral Resources of 666,000 tonnes averaging 6.81 g/tonne gold;
145,700 ounces contained gold in Inferred;
Proven and Probable ("P&P") Mineral Reserves of 802,048 tonnes averaging 6.79 g/tonne gold;
175,093 ounces contained gold in P&P Reserve;
M&I gold resources ounces, which are not part of the P&P reserve ounces, are targeted for potential inclusion in the P&P reserves through recommended future drilling;
Inferred gold resources are open for further expansion and conversion through recommended future drilling in the Copperstone and Footwall zones.
Kerr Mines Investor Info:
TSX:KER
OTC:KERMF
**Since 2003, Fundamental Research Corp has provided the highest institutional quality equity research coverage on over 280 small and micro cap public companies. Subscribe to Kerr Mines Gold Newsletter
To connect with us on social media please visit us on Twitter