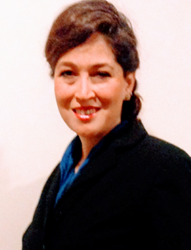 Angel House is near to my heart because for many of us, the reality of homelessness is only a couple of missed paychecks away.
LOVELAND, Colo. (PRWEB) April 19, 2018
Therese Bickford, broker associate with her father's company Maestas and Associates, is commemorating three years as a volunteer for the Angel House Program. Angel House is an outreach program of House of Neighborly Service serving families with children. Throughout the week of 4/15-4/21, the Angel House Program will be hosting families who want help rebuilding at Foundations Church.
"I have always had a need to be involved in my community. It gives me a sense of greater purpose and sets a wonderful example for my children," said Bickford. "Angel House is near to my heart because for many of us, the reality of homelessness is only a couple of missed paychecks away. When the market was upside down, loss of income caused us to move in with my brother. I was so incredibly blessed to have family who was ready, willing and able to help! The recipients of the Angel House Program have the next best thing. When we prepare meals, we get a chance to visit with the families and break bread together. That's my favorite part!"
Families in the Angel House Program are hosted by a rotating church network and an evening meal is coordinated seven nights a week. Bickford prepares meals for the families throughout the duration of their one-week stay at Foundations Church.
Families accepted into the Angel House Program are warmly welcomed and immediately provided all of the resources House of Neighborly Service has to offer. To donate to House of Neighborly Service, please visit https://www.firstgiving.com/Npo/29761/Donation?designId=29797.
About Therese Bickford, Maestas and Associates
Therese Bickford has received recognition as a Five Star Real Estate Agent for 6 years running. She and her team primarily work by referral and service clients in Loveland, where she currently resides, as well as the rest of Northern Colorado and the greater Denver area. For more information, please call Therese at (720) 837-9775, or visit http://www.maestasrealestate.com.
About the NALA™
The NALA offers small and medium-sized businesses effective ways to reach customers through new media. As a single-agency source, the NALA helps businesses flourish in their local community. The NALA's mission is to promote a business' relevant and newsworthy events and achievements, both online and through traditional media. The information and content in this article are not in conjunction with the views of the NALA. For media inquiries, please call 805.650.6121, ext. 361.