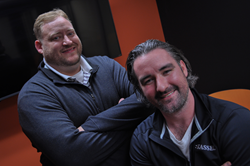 Fire Guard is an ideal fit to complement what we currently offer through Gutridge in the residential and commercial fire protection markets.
COLUMBUS, Ohio (PRWEB) April 20, 2018
Today, Kassel Enterprises, Inc., a Dublin, Ohio-based investment group, announced that its subsidiary, Gutridge, has acquired Fire Guard LLC and Guardian Fire Services LLC, based in Centerburg, Ohio, for an undisclosed amount.
Fire Guard is a 30-year-old fire sprinkler installation company and is one of the largest fire suppression companies in Ohio with 88 employees. It serves both residential and commercial customers throughout the Ohio marketplace.
"We are pleased to announce our partnership with the McGovern family and Fire Guard, as we look to continue to build our offering within the fire protection space," said Tom Werner, Managing Partner and Chief Executive Officer, Kassel Enterprises, Inc. "Fire Guard is an ideal fit to complement what we currently offer through Gutridge."
Fire Guard will be merged into Gutridge's Fire Division, a provider of mechanical, electrical, plumbing, and fire protection services which Kassel previously acquired. All front office staff will be moved to Gutridge's Newark headquarters, which recently expanded to add 4,000 square feet of design and engineering space. Gutridge will have reporting sites at all three locations in Dublin, Newark and Columbus.
"The Fire Guard acquisition and partnership increase our bandwidth within residential and commercial fire protection markets," Brett Motherwell, Managing Partner, Kassel Enterprises, Inc. "Nick (McGovern) will continue to lead the production and installation group but will share overall division management with Gutridge's Rick Kossler and Rod Gutridge. We feel this will provide an unparalleled leadership core in our fire division, which will greatly benefit our joint customer base."
"My family and I are grateful to catch the attention of Kassel and are thrilled to be joining the Gutridge team," said Nick McGovern, President of Fire Guard. "Our goal has always been to take care of our customers and their needs. We feel with this partnership, our team members and customers will stand to reap the benefits of what we can mutually bring to the market."
Gutridge now employs over 350 people in the central Ohio area and remains focused on growing the company.
"Our team gets stronger with what Brett and Tom have pulled together for Gutridge as a Kassel company," said Lane Hartfield President/CEO of Gutridge. "We have a lot of excited team members and customers with what Gutridge is bringing to the market. Look for us to continue to bring a strong culture, process and client-driven approach to the greater central Ohio marketplace."
About Gutridge
Gutridge, formerly Gutridge Plumbing Inc., is a full-service mechanical, electrical, plumbing, and fire protection installation and service company. Headquartered in Newark, Ohio, Gutridge also has additional locations in Dublin and Columbus totaling nearly 30,000 square feet of engineering, design, service and administrative offices with over 15,000 square feet of prefabrication and shop space. Serving nearly 250 miles around Columbus, Gutridge has grown from a one-employee operation started by Gil Gutridge to a premier design build, design assist, and plan spec subcontractor employing more than 350 full-time employees.
About Kassel Enterprises
Kassel Enterprises Inc., is headquartered in Dublin, Ohio and is led by managing partners Thomas Werner, Brett Motherwell, and principals Felipe Gonzalez, Brenda Werner and Aja De Los Santos. In addition to its newest acquisitions, Kassel currently owns and operates Gutridge (formerly Gutridge Plumbing, Inc.), Haslett Sheet Metal and Fabrication (formerly Haslett Mechanical), Midwest Roofing and Furnace, Purdy Electric, Gorilla Dumpsters, KDB Custom Homes, Kassel Construction LLC (FL operations), Ohio Industrial Equipment, Excel Facility Maintenance and High Lands Golf Club.