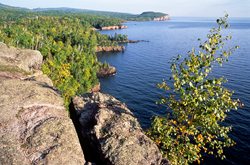 "Investing in places that are likely to be resilient to climate change is a wise investment." – Joe Fargione, the Conservancy's lead scientist for North America.
CHICAGO (PRWEB) April 22, 2018
A new study by The Nature Conservancy has identified landscapes across the American Midwest that are predicted to withstand the growing impacts of climate change and help ensure nature's survival.
As droughts, rising temperatures and other climate impacts threaten to destabilize natural areas across the United States and around the world, scientists believe these resilient landscapes will continue to serve as habitat to a wide variety of plants and animals while also providing drinking water, fertile soil and other important natural services that people rely upon.
The study, conducted over three years, analyzed 336 million acres of land encompassing all of Minnesota, Wisconsin, Iowa and Michigan, much of Illinois, Indiana and Ohio and parts of North Dakota, South Dakota, Nebraska, Kansas and Missouri. Parts of two Canadian provinces, Ontario and Manitoba, were also included in the analysis.
Scientists used computerized geographic information systems to analyze 30-meter-square plots, areas about twice the size of a small city lot, across the entire Midwest region that extends from Lake Erie in the east to the edge of the Great Plains.
"Protecting the most important sites we've identified and connecting them together is one of our best strategies for ensuring that we continue to have a rich diversity of life in the region and all the benefits that nature provides to us," said Kim Hall, a Conservancy climate change ecologist who worked on the study.
Joe Fargione, the Conservancy's lead scientist for North America, said the natural strongholds identified by the study could serve as sanctuaries and seed banks for many animal and plant species that otherwise may be unable to find suitable habitat due to warmer, drier conditions predicted by climate scientists. They could also benefit people by helping provide food and clean water.
"Investing in places that are likely to be resilient to climate change is a wise investment," Fargione said.
The Conservancy's new study shows that natural areas in the Midwest with diverse topographies, geologies and elevation ranges that are connected to other forests, wetlands and prairies offer the greatest potential for supporting a variety of plants and animals in the present and the future, even though the specific species found in those areas may change over time. Such places offer resilience—the ability of nature to persist and bounce back despite an unpredictable climate.
Among the most resilient landscapes found by the study were the Great Lakes islands and shorelines, northern forests, areas spared by glaciers, large prairie and wetland complexes and flat to gently rolling hills with steep bluffs bordering the Mississippi, Missouri and Illinois river valleys.
The study also looked at the connectivity of landscapes – whether roads, dams, development or other fragmenting features have created barriers that prevent plants and animals from moving into other natural areas. Together, that collection of diverse environmental settings and the ability for local movement define a landscape's resiliency.
Later this year, the Conservancy will identify important corridors that link these resilient landscapes together. Government agencies and nonprofit groups can use the resulting maps to help guide their conservation efforts.
"It's not enough to have isolated islands of these climate-resilient sites," said Meredith Cornett, science director for the Conservancy in Minnesota, North Dakota and South Dakota. "We have to ensure that corridors connect them together. To survive the changing climate, some species will be able to relocate within their current environment. Others will need to move great distances to entirely new places. Just as people use roads to move from town to town, we need to make sure species have a way to move from one landscape to another."
But Cornett added, "Unfortunately, many species won't be able to relocate as climate change makes their neighborhoods unlivable. So, the ultimate goal is to reduce greenhouse gas emissions and stop climate change impacts from worsening. Until that happens, these resilient landscapes offer a much-needed safe harbor for the survival of many species and natural systems."
Ralph Grundel, a U.S. Geological Survey research ecologist, said the study provides a new set of tools for landscape conservation planning. "It will enhance our ability to understand the resilience of existing and restored landscapes for retaining native biodiversity. It will improve our ability to predict whether different scenarios of landscape composition will provide the physical diversity of landforms, topography, and soils that will accommodate the diversity of native species that might inhabit well maintained landscapes. It represents a significant addition to how we can effectively evaluate the conservation quality of our landscapes."
Scientists for The Nature Conservancy are now conducting similar studies across the Great Plains to identify other natural strongholds that have the potential to support a diversity of plants and animals as the climate changes. The Conservancy has already completed its analysis of the Eastern U.S and the Pacific Northwest and has plans to complete a "wall-to-wall" map for the contiguous United States within a few years.
Mark Anderson, a Conservancy scientist who has helped lead the natural strongholds studies, said the study's findings should be used in combination with more detailed data and field validation from various sites. "This analysis doesn't make decisions, instead, it provides estimates of resilience that should be integrated and interpreted with additional data to inform conservation decisions."
The study of the Great Lakes and Tallgrass Prairie region in the Midwest was funded primarily through a grant from the Doris Duke Charitable Foundation with additional funding provided by Nature Conservancy supporters.
For an overview and additional information about the study, including a link to download the study, data and a mapping tool, go to nature.org/midweststrongholds.
The Nature Conservancy is a global conservation organization dedicated to conserving the lands and waters on which all life depends. Guided by science, we create innovative, on-the-ground solutions to our world's toughest challenges so that nature and people can thrive together. We are tackling climate change, conserving lands, waters and oceans at an unprecedented scale, providing food and water sustainably and helping make cities more sustainable. Working in 72 countries, we use a collaborative approach that engages local communities, governments, the private sector, and other partners. To learn more, visit http://www.nature.org.