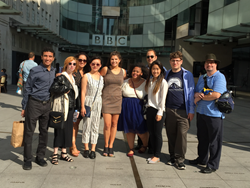 "The course is a wonderful way to learn about and experience the dynamic British TV industry at a time of great change, challenge and triumphs."
PHILADELPHIA (PRWEB) April 19, 2018
Karen Curry believes to understand global TV you have to visit London. Curry, a professor in Drexel University's Paul F. Harron Television Management Graduate Program, should know. As NBC News' former Bureau Chief, she lived fifteen years in London and from there covered the UK, Europe, the Middle East, and the untimely death of Princess Diana.
That's why Professor Curry is connecting her former London colleagues and her students during a whirlwind week of visits to global media companies that affect the way news is reported and distributed around the world. Students will spend a full week in mid-August on the trip while other students follow along online, each learning about the larger global media ecosystem. The week abroad caps off ten weeks of online course work and lectures, all designed to help students discover how the US and UK television industries intersect.
The Global Television Industry London is a summer online graduate course in the Television Management Program that is also open to undergraduates and to students from other universities. The online portion of the course includes video interviews with industry leaders like the BBC Head of Arts, the Managing Director of Red Arrow Entertainment, leading British journalists, producers, writers, creators of innovative online streaming services, leading royal experts and many more.
While in London, students will visit the BBC, ITN, NBC, CNN and have in-depth meetings with senior staff. They will also visit the set of a British production, take a trip outside London, attend the world-famous Proms at Royal Albert Hall, see Buckingham Palace and have tea with a royal expert.
Whether it's US audiences binge-watching British made shows like Downton Abbey, Victoria, The Crown and Doc Martin or British producers like Armando Iannucci creating the quintessentially American hit series Veep - there is a steady stream of talent crossing the Atlantic, creating the world's most loved programs.
"The course is a wonderful way to learn about and experience this dynamic industry at a time of great change, challenge and triumphs," said Curry. She added, "Experiencing the cultural richness of London is part of the experiential learning model on which the course is based." "What would a summer visit to London be without an evening at the Proms?"
Professor Karen Curry says her students will gain a lifetime of knowledge during their jam-packed six-day trip. "Television Management students always take advantage of the opportunities in London," she said. "They'll carry what they learn there throughout their careers and will have these contacts for life."
NOTES TO EDITORS: Professor Curry and her students will be available for interviews before, during and after their week in London. Photos and videos of the visit will also be available.
CONTACT:
Al Tedesco, Director
Paul F. Harron Graduate Program in Television Management
Drexel University
215-895-2180
ast33(at)drexel(dot)edu