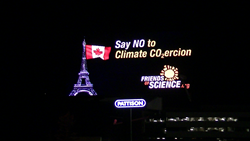 Friends of Science Society wonders if this Canada-France deal is a geopolitical effort to further isolate the US or Canada in terms of carbon trading and climate compliance with the #ParisAgreement
CALGARY, Alta. (PRWEB) April 19, 2018
On April 16, 2018, the Government of Canada issued a press release announcing a new climate change and cultural agreement says Friends of Science. This news comes a day after Canadian Prime Minister Justin Trudeau met with provincial leaders in a failed attempt to resolve the deadlock on KinderMorgan's oil pipeline from Alberta's oil sands to tidewater port in British Columbia, as reported by the National Post, April 15, 2018.
Ottawa energy policy consultant, Robert Lyman, contributed a new Friends of Science blog post entitled "Climate Policy, Oil Pipelines, and Confederation" commenting on the matter.
Surrounding these events is a report by Canada's Ecofiscal Commission, a self-named group of economists, pushing carbon pricing or cap and trade, as reported by the Calgary Herald on April 5, 2018. Such policies are economically destructive to Canada and damaging to ordinary families and small business, says Friends of Science in a rebuttal report entitled "Let them Eat Carbon." Climate change is last on the list of Canadian priorities in the Abacus Data survey relied on by Ecofiscal.
The new Canada-France trade deal may have implications for Canada-US relations, even NAFTA. Since the United States has virtually abandoned the term "climate change" in official documents and activities, as reported by Lawrence Solomon in the National Post of March 23, 2018, Friends of Science Society wonders if this Canada-France deal is a geopolitical effort to further isolate the US or Canada in terms of carbon trading and climate compliance with the #ParisAgreement as reported by Climate Home News on Feb. 2, 2018.
Canada and France have deep trade relations dating back to the Battle for Quebec of 1776. Since the oil crisis of the 1970's, the motto of France has been: "We have no oil, we have ideas." Canada is deemed to have the third largest oil reserves in the world.
According to Finance Canada's (2013) website France is the 8th largest source of direct investment in Canada and: "About 220 Canadian companies have head offices in France. The largest are usually among the top players in their sector. These include Aastra, Bombardier, the Caisse de dépôt et placement du Québec, Cascades, CGI, Magna, McCain, SNC-Lavalin, Tembec, Transat, Vermilion."
In October 2016, France unilaterally implemented Article 173-VI, a demand for a 2°C climate risk reporting from all of its global investees.
It is unclear how the France-Canada deal would affect pipelines.
KinderMorgan's TransMountain pipeline went through extensive regulatory review by Canada's National Energy Board and achieved formal government approval, but foreign funded anti-oil activists have blocked construction activity, thus the company has suspended current non-essential spending as stated in its April 8, 2018 press release.
Resource companies may also face newer more stringent 'make the polluter pay' GHG regulations, about to be tabled in Canada. LINK: fin.gc.ca/drleg-apl/2018/ggpp-tpcges-eng.asp
In the April 17, 2018 issue of "Musings" from Houston energy investment banker PPHB, Canada's moves were described as 'hostile' to international investment.
Friends of Science Society says carbon dioxide is not the main driver of climate change and policies on climate risk and the "2 degree C" target fail to meet investment standards related to continuous disclosure regarding the uncertainties of climate change causation.
About
Friends of Science Society is an independent group of earth, atmospheric and solar scientists, engineers, and citizens who are celebrating its 16th year of offering climate science insights. After a thorough review of a broad spectrum of literature on climate change, Friends of Science Society has concluded that the sun is the main driver of climate change, not carbon dioxide (CO2).
Friends of Science Society
P.O. Box 23167, Mission P.O.
Calgary, Alberta
Canada T2S 3B1
Toll-free Telephone: 1-888-789-9597
Web: friendsofscience.org
E-mail: contact(at)friendsofscience( dot)org
Web: climatechange101.ca