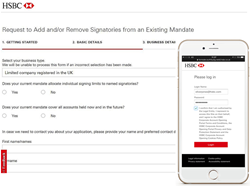 "We are very honoured that Celent recognised the onboarding system we delivered for our commercial banking division, especially as there were so many other strong contenders." Mr. Sateen Bailur, Head of Commercial Banking Client Management Technology, HSBC
LONDON and DENVER (PRWEB) April 25, 2018
Avoka was proud to join its customer HSBC Commercial Banking Group at Celent's Innovation & Insight Day on April 24 as HSBC accepted its award for Model Bank for Commercial Account Onboarding. The win is based upon the digital transformation achieved by HSBC partnering with Avoka, the global leader in digital customer journeys for banking. Avoka and HSBC worked together to streamline the digital onboarding process, bringing a frictionless, omnichannel experience to nearly 400,000 commercial customers across 44 markets and their respective languages and regulatory requirements, rolling out the solution to the initial 26 countries in just nine months.
For more detail read the complete Celent case study, HSBC: CoreDocs Digital Transformation of Global Business Onboarding.
"We are very honoured that Celent recognised the onboarding system we delivered for our commercial banking division, especially as there were so many other strong contenders," said Mr. Sateen Bailur, Head of Commercial Banking Client Management Technology at HSBC. "The partnership with Avoka allowed us to deliver a globally consistent customer experience, while meeting the local needs of each market, on a highly ambitious project schedule."
HSBC's mission was to grow its international commercial client network, a challenging project requiring a robust and scalable onboarding process to match it. The bank tapped Avoka's unmatched expertise in perfecting the customer journey to build the solution, using Avoka Transact to revamp customer onboarding. The new system eliminates repetitive documentation and manual processes, and fulfills local market requirements for each of the 44 distinct local markets.
By introducing the new automated process built by Avoka, the bank eliminated weeks of manual paper processing and application rework, with customers in the initial 26 country rollout scoring the process as extremely positive.
"HSBC established itself as an innovation leader with this ambitious commercial onboarding project," said Patricia Hines of Celent. "We are impressed with how the bank worked with Avoka to deliver this solution to 26 countries in a nine-month timespan," Hines added.
"Throughout our time working with our bank partners, we've continued to see significant growth in digital transformation in the commercial banking sector - the most profitable, yet most complex of all product lines, with its inherent compliance requirements. Commercial banking offers an unmatched growth opportunity for digital leadership and improvement of the customer experience. Institutions like HSBC are leading the way, and we congratulate them on a well-deserved win!" said Derek Corcoran, Chief Experience Officer, Avoka.
Currently in its 11th year, Celent Model Bank is awarded for technology best practices in different areas critical to success in banking.
About Avoka
Avoka creates customer acquisition and onboarding journeys in financial services, government and other industries. For account opening, lending applications, and business onboarding, Avoka Transact creates outstanding experiences that accelerate customer acquisition and time to market. Avoka was founded in 2002 and has digitised over 100 million transactions for 150+ global clients. Avoka is based in Denver, CO; London, England; and Sydney, Australia. Visit us at http://www.avoka.com/.