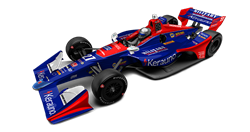 INDIANAPOLIS (PRWEB) April 19, 2018
Kerauno, a global communications workflow platform, today announced that the company has become the first partner of Military to Motorsports, a unique employment initiative dedicated to helping former members of United States Armed Services branches find fulfilling and meaningful careers upon returning from active duty service. Kerauno will join Andretti Autosport, and its extended network of partner employers in an ongoing program committed to finding high quality job opportunities for veterans in growth industries like motorsports, communications and technology.
Military to Motorsports is designed to align organizations like Andretti, Kerauno and partners from various industries, into an ongoing program aimed at finding, creating or promoting new job opportunities reserved for veterans that are looking to establish or grow their careers. As the first sponsor to join the Military to Motorsports, Kerauno hopes the partnership will help them find qualified veterans to help deliver a best-in-class Communication Workflow-as-a-Service (CWaaS) platform. Kerauno is seeking to add former active-duty veterans who are transitioning back to civilian life, by offering them opportunities within the sales, development, marketing, operations, and customer service areas of the business. Kerauno is a fast-growing software provider that was born out of the digital transformation movement, and is looking to double its current headcount by year's end in response to a growing wave of license and customer adoption momentum.
"Our relationship with Andretti has grown tremendously over the past few years, so when Michael Andretti and Dave Tilton approached us with this opportunity, there was no doubt in our minds that we wanted to support those who have given so much for our country," said Josh Ross, CEO of Kerauno. "With Kerauno growing at such a rapid pace, we are constantly looking for the best talent in the industry and we are committed to hiring the most qualified veterans who fit those needs."
Military to Motorsports was founded in 2017 by racing legend, Michael Andretti, and Andretti Autosport affiliate, David Tilton, who is a retired Naval veteran. The core mission of the program is veteran empowerment, which includes helping find and create a high volume of career opportunities for motivated military veterans who are looking to start or further their careers at organizations like Andretti Autosport, Kerauno or other organizations in high-growth industries.
"We here at Military to Motorsports are extremely excited to have Kerauno join us as our first partner in the effort with Andretti Autosport, finding Military Veterans careers in the private sector," said Tilton. "With this strategic partnership, Veterans and their families will be able to continue to apply their 'Work hard attitude and professional ethics' through quality employment with outstanding companies."
Kerauno's involvement with Military to Motorsports is another facet of a longstanding partnership with Andretti Autosport, which has recently named Kerauno as the official communications workflow software provider of Andretti Autosport. Kerauno is the primary sponsor for the #27 Kerauno/Military to Motorsports Honda car with Alexander Rossi at the Honda Grand Prix of Alabama taking place at Barber Motorsports Park on April 22. The partnership will also lend Kerauno's best-in-class workflows platform to help Military to Motorsports fuel applicant engagement, to further amplify the reach and analytics of MilitaryToMotorsports.com.
For more information on Kerauno's support of Military to Motorsports and employment opportunities, please go to https://www.keraunouc.com/militarytomotorsport.
About Kerauno LLC
Kerauno is a global Communications Workflow-as-a-Service (CWaaS) platform that powerfully connects people, process, software and systems. Through the infusion of key modes of communication including voice, SMS text, chat, email and social media, Kerauno can amplify existing business software to provide strategic insights and actionable analytics across all forms of communication which affect every industry and vertical. Headquartered in Indianapolis, Kerauno has created a global customer base that relies on its mobile-centric communications workflow platform to optimize business processes, enhance customer and employee engagements, and drive revenue to the bottom line. For more information, go to https://www.keraunouc.com.