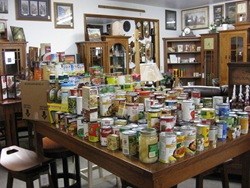 The Weaver Spring Sale gives furniture lovers a unique opportunity to purchase quality Amish custom furniture at big savings.
SHIPSHEWANA, Ind. (PRWEB) April 20, 2018
Get ready for the big savings on furniture and accessories, including up to 70% off, in the Weaver Spring Sale, April 20-30, 2018. The sale runs all day April 20th through April 30th. The large Shipshewana Amish Furniture Store is closed on Sundays.
The Spring Furniture Sale features big store wide savings, including up to 70% discounts off select close-out items. Also, you can save 20% off crafts and home accessories. Furniture shoppers can also get at least 15% off items throughout the entire store. Custom furniture orders are 10% off. All customers will enjoy the savings during this Spring Sales event.
Special financing is available, subject to credit approval, and minimum monthly payments are required. Sales associates in the store can provide additional details.
Customers can sign up for a chance to win great prizes. Prizes include a free recliner, a $100 gift card and more. Also, free snacks and drinks will be provided on Friday and Saturday, April 27 and 28.
Weaver Furniture Sales is hosting a food drive in conjunction with the Spring Furniture Sale. Shoppers are encouraged to bring nonperishable canned food items, which will be donated to the Clothes & Food Basket of LaGrange, Indiana. Customers who donate three or more canned food items will receive an additional discount off their purchases.
Weaver Furniture Sales is located 1/4 mile south and 1/4 mile east of the junction of State Road 5 and US 20 in Shipshewana, Indiana. The Shipshewana area is home to one of the largest Amish communities in the United States and the largest outdoor flea market in the Midwest. The Weaver Furniture store is open Monday through Friday from 9 a.m. to 5 p.m. and Saturday 9 a.m. to 4 p.m.
About Weaver Furniture Sales
Weaver Furniture Sales was established in 1989 in Shipshewana, Indiana. An Amish, family-owned furniture business, Weaver offers a full line of solid wood, Amish furniture at affordable prices. And Weaver caters to both residential and commercial customers. The company features Shaker, Mission and Traditional furniture styles. As part of their client services, Weaver provides furniture design consultation services, custom furniture options, furniture quotes, layaway options and various delivery alternatives for residences and businesses in the United States.
LeRoy and Ida Weaver own and operate Weaver Furniture Sales. They began with a 1,500 square foot showroom, which has been expanded to more than 20,000 square feet. Previously, they owned and managed LeWana Dairy Farm, where they milked cows and raised corn and hay.