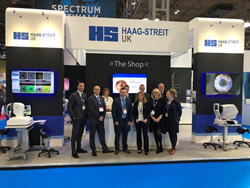 HARLOW, UK (PRWEB UK) 19 April 2018
For the duration of the Optrafair show, HS-UK presented a very special Eidon promotion; any eye care professional who visited the HS-UK stand and undertook a demonstration of the device received a free retinal scan and a copy of CenterVue's 'Clinical Atlas'.
Grahame Wood, HS-UK National Sales Manager, commented, "The Eidon was undoubtedly the 'star of the show'. It boasts fully-automated high-quality, wide-field, true colour confocal imaging using white light to capture the retina through small pupils and media opacities." Grahame continued, "Traditional retinal cameras use a 45° view, and may leave some pathology unseen and undocumented, however, the Eidon's 60-150° high-resolution, wide-field view enables the user to image and document more pathologies. It also provides three different imaging modalities (true colour, infrared and autofluorescence), a unique confocal view of the retina and dilation-free operation."
Grahame added, "Many delegates requested a demonstration of the device and were extremely impressed with the Eidon's wide-field capability and the quality of the retinal images achieved."
A large selection of the HS-UK product portfolio was also showcased at the 3-day event, including; the prestigious BQ 900 LED slit lamp, with additional IM 900 imaging module and the Fundus Module 300, which allows integrated non-mydriatic retinal imaging, as part of the regular slit lamp examination. Other products included the; AngioVue OCT-A and iScan OCT devices; DRS retinal camera; and the Octopus 600 perimeter. The HS-UK Team performed many demonstrations of these devices throughout the show.
In addition to demonstrating this state-of-the-art optometry equipment, HS-UK also hosted a number of on-stand clinical education seminars and workshops. Session topics included; 'True Colour & Infrared Confocal Wide-field Imaging', 'Glaucoma Function & Structure' and the 'Slit Lamp Masterclass'. Attendees were eligible to receive 2 CET points for each course and the HS-UK Clinical Education and Training (CEaT) Team received excellent feedback on course content and the quality of the speakers.
Grant Duncan, HS-UK Clinical Education and Training Manager, commented, "The 3 courses were so successful that we could not accommodate everyone who wanted to attend. The HS-UK CeAT Team host various courses UK-wide, throughout the year, I would recommend that people periodically visit the HS-UK website to review the courses we have on offer".
Haag-Streit sister company IPRO also exhibited on stand F32, and unveiled the latest developments to the 3D refraction system, PASKAL 3D. This now includes a new test series for multi-focal contact lenses and test series for children and teens.
If you missed Optrafair 2018 and would like further information on the HS-UK product portfolio, please call HS-UK on (01279) 883807 or visit http://www.haagstreituk.com.
### Ends ###
For news media enquiries, please contact:
Erika Poole
Marketing Co-ordinator
Email: epoole(at)haag-streit-uk.com
DDI: 01279 456260