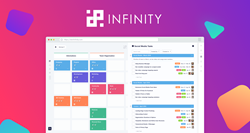 (PRWEB) April 23, 2018
The 2.5K early beta testers are onto something - there is a hot new project management tool in town.
Hello World. Infinity is launching the closed beta in May of 2018 with 2500 users already actively engaged in commenting and creating the future product. Infinity is flexible, visual and comes with many plugins that let you keep every asset of your project in one place, simplifying and speeding up your organization in the process. The killer UX and their first Medium post 'Is Infinity Better Then Trello' had users running over from Trello to them, (and confessing it). The structural improvements focus on flexibility and your need to organize everything from just one place.
Having tested many project management tools, and reaching their limits, the team Infinity has decided to build the smart and beautiful tool that adapts to any project's shape and size. From the freelance gig, to the multiple teams and projects, and even your personal life, no matter how complex the task may be, Infinity's simple, bright and energizing structure will inspire you to organize more and better.
Infinity features infinite Cell Grid, the Mind Map and the set of practical plugins. The endlessly flexible Cell Grid lets you structure your project any way you want - horizontally, vertically and in-depth. Each Cell comes with the set of default productivity plugins that let you store any kind of file (links, images, notes, data, etc) in a clear and orderly way. The Infinity's Mind Map feature, lets you create the big project picture and always go back to it during the process. With the smart visual approach, they are also capitalizing on the importance of color coding the project parts or phases so each cell and board comes with an option to be custom-colored. They even took care to design a smarter and more visual way to store bookmarks. The project roadmap shows that the Infinity API will allow integration with the other major productivity tools so you can seamlessly orchestrate them from your new Infinity core.
Team building Infinity is a bunch of indie makers passionate about building products and doing growth. They know the real pains of project management tools because they are project managers and organizational freaks. They have started to build Infinity in May 2017.