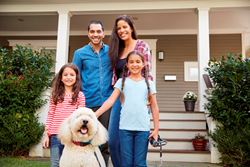 You can't separate emotion from cognition, particularly when it comes to pet health. The winning formula is to be found in addressing both simultaneously if we expect to change the narrative and reach the majority.
(PRWEB) April 22, 2018
32 percent of pet owners in the US said they had more in common with their pets; compared to 26 percent in the UK – a seven percent difference. In light of the findings, Aquarium is calling for a rethink on the approach to the pet insurance market.
When comparing the US and UK results like for like, Americans responded on average five percentage points higher in terms of emotional ties with their pets, compared with UK pet owners. The highest US-British differential from the survey was a nine percent difference, when owners agreed their pet instinctively knows what mood they are in (US 66 percent versus 57 percent UK) and Aquarium's Mark Colonnese has been analysing the significance of the findings for the pet insurance markets on both sides of the Pond.
"While the two sets of results follow broadly similar patterns, there is a noticeable upward trend in US results versus the UK," said Aquarium Director Mark Colonnese. "Three percent is within the margin of error on such surveys, but a seven percent difference is harder to explain away. It suggests Americans have a stronger emotional pet bond than in the UK and highlights where the insurance industry should perhaps be targeting its marketing – with less of a tug on the purse strings and more of a tug on the heart strings." Mark's comments come as the industry grapples with the fact that, despite the evidence of pets having a growing role in our lives, 74 percent of Americans have never had pet insurance. Even the lower figure of 42 percent in the UK who have never had pet insurance is seen as unacceptably high, given the rising cost of vet bills. So, the question is, what are insurers doing wrong and can this research help them get it right?
"Buying pet insurance is completely different to insuring a car," explained Colonnese. "These results prove our growing desire to humanise our pets and marketing must reflect this. We don't buy pet insurance on hard facts alone and saying pet insurance makes financial sense isn't enough. You can't separate emotion from cognition, particularly when it comes to pet health. The winning formula is to be found in addressing both simultaneously if we expect to change the narrative and reach the majority. Ten or twenty years ago, this would have been hard, but the latest technology makes such a refined approach to market not only desirable, but possible."
Aquarium Software is used by a number of travel insurers; pet insurers; and other consumer service providers and affinity partners in the UK, Europe, USA and Canada. For further information contact Aquarium Software on +44 (0)161 927 5620 or visit http://www.aquarium-software.com