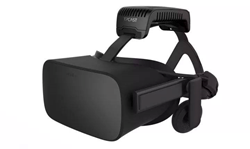 TPCAST is continuously working to enhance the product quality and capabilities and is excited to provide consumers a better Wireless VR experience for the Oculus Rift with this enhanced software and firmware upgrade
SUNNYVALE, Calif. (PRWEB) April 19, 2018
TPCAST, the leader in Wireless VR technology for PC Virtual Reality (VR) head-mounted displays (HMDs) announced today an upgraded software for its Consumer Edition Wireless Adapter for the Oculus Rift HMD. The new software includes an upgraded firmware that enhances the consumer experience of Wireless VR as well a new installation client that improves the diagnostics.
The TPCAST Consumer Edition (CE) Wireless Adapter for Oculus Rift is the only PC VR Wireless Solution available in the market today, and has been shipping in North America since December 2017. TPCAST technology is a breakthrough in the VR field, creating a wireless connection between the PC and the VR headset, providing VR users a unique, truly immersive experience.
"TPCAST is continuously working to enhance the product quality and capabilities and is excited to provide consumers a better Wireless VR experience for the Oculus Rift with this enhanced software and firmware upgrade," stated Udi Yuhjtman, North America General Manager of TPCAST. "We have received excellent feedback from customers and partners about the tetherless setup and being able to operate wirelessly without paying a penalty."
The upgraded software for the CE Adapter for the Oculus Rift includes an upgraded firmware that improves the tracking stability of the Wireless Adapter for the Oculus Rift, thus enhancing the Wireless VR user experience. For current users, the TPCAST Wireless Connectivity Assistant will automatically have an option to upgrade to the new software (V3.0.2). New users can download the new software client directly from TPCAST's website.
Availability:
The new software version (V3.0.2) for the TPCAST Wireless Adapter for the Oculus Rift is available today on TPCAST's support page.
About TPCAST:
Creator of the first commercial wireless virtual reality solution, TPCAST's vision is to unleash the VR world by making the VR/AR/MR HMDs wireless. The company's patent-pending technologies enable highly efficient bi-directional communications between the PC and the VR HMD with near zero latency. TPCAST's mission is to work with the VR industry ECO partners including HMD manufacturers, game developers, content providers, GPU makers, and key VR technology providers to deliver the best wireless VR experience to consumers and enterprise users.