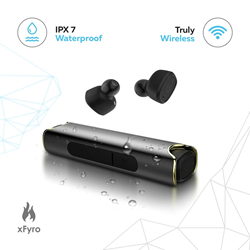 xFyro has been able to offer massive savings to their customers – giving them an ultra-premium product at affordable prices.
Los Angeles, CA (PRWEB) April 28, 2018
Founded in 2016, xFyro Audio had one mission in mind, to become the best in audio technology. The founders were dissatisfied by mediocre wireless earbuds on the market - with weak connectivity, unimpressive sound, and short battery life.
As a result, they came together to create a product they could love at a fair price. The outcome was the creation of the xFyro xS2 wireless earbuds – by investing solely in product development instead of on marketing, the xFyro team was able to create a high-quality earbud with cutting-edge technology and incredibly clear sound for a fraction of the price of big brands.
The xFyro xS2 earbuds have 24-hour battery, use the latest Bluetooth technology, are certified IP67 waterproof, dustproof, automatic pairing, have a built-in microphone for phone calls, and come with a luxurious brushed aluminum carrying case that doubles as an emergency power bank capable of recharging your phone and other devices. The xFyro xS2 offer everything you could look for in a pair of earbuds; incredible sound, strong connectivity, and exceptional battery life.
Click here to learn more about the xFyro xS2 Earbuds
Since the company's inception, the founding team has obsessively focused their time and resources into developing the best wireless earbuds possible. As a result of the team's efforts in developing a quality product, their customer base grew quickly. According to the founding team, "xFyro's goal has always been to become a leading brand for premium and cutting edge wireless audio products."
In speaking with the rest of the team the question came up: "What is the hardest obstacle that you have had to overcome thus far?" The xFyro team said "Developing industry leading products to compete with established brands while investing much less in marketing and offering the products for a much lower price has been the hardest obstacle."
xFyro has developed product lines that are engineered to the highest quality specifications while keeping marketing budgets lean. By doing so, xFyro has been able to offer massive savings to their customers – giving them an ultra-premium product at affordable prices. As a result, they've seen incredible sales growth and xFyro has quickly solidified their place as a leader in the wireless earbuds market. Customers have given the product rave reviews and regularly speak of how pleased they are with the xFyro xS2.
GROWTH AND STRATEGY
The company has experienced incredible growth thus far; and, within the next 2 years, xFyro plans on developing many other wireless earbud products based on feedback from current customers as well as from improving technological developments such as new Bluetooth technology. xFyro plans on staying on the cutting edge of the industry and while always offering customers the perfect balance between quality, technology, and price.
In addition to wireless earbuds, the xFyro team plans on expanding to other audio products such as wireless speakers. Despite many brands in the wireless audio space failing due to unimpressive products or sky-high price tags to support massive marketing budgets, xFyro stands out as a clear success story. In fact, xFyro has been featured on countless blogs and headphone review sites as being one of the best options available at an affordable price. Clearly the winning formula here was to build a quality product and offer it at the best price possible.
xFyro earbuds can be purchased online at https://www.xfyro.com or at any of the major online retailers.