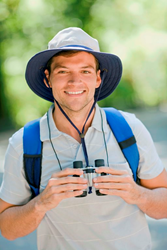 Aquarium Software is developing tech that makes it easier for insurer and policyholder alike to see the key points at a glance. This is in response partly to many of us never reading the small print and it can make all the difference when it really matters.
(PRWEB UK) 26 April 2018
There is no reason why men and women cannot travel alone safely, and Aquarium Software's Mark Colonnese says as long as people follow a few simple rules, it is possible to seek solitude in safety, as long as comprehensive travel insurance is the foundation underpinning any trip.
"Thinking of solo travel, we tend to think of young back-packers, but the average age of single travellers is now 54 and 58 percent of those are female," said Aquarium Software Director, Mark Colonnese. "Insurance is vital, as in the UK we can turn to friends, family and the authorities for assistance but seeking help abroad is much harder. A friendly, knowledgeable voice at the end of a line should you need help makes a big difference, so when choosing a provider, always look for one available 24 hours a day, seven days a week, ideally with an easy to navigate app to manage any queries or claims."
The primary reason for insurance is to cover medical emergencies. To lose £1,000 on a cancelled flight or to be mugged without insurance is bad enough, but to be trapped overseas requiring £100,000 to be repatriated due to inadequate cover is quite another. Colonnese advises that if planning a long trip, it is well worth taking the time to ensure your insurance covers everything you are likely to need and to be honest about any existing or past medical conditions – if in any doubt at all, contact customer support for advice.
"Aquarium Software is developing tech that makes it easier for insurer and policyholder alike to see the key points at a glance," added Mark. "This is in response partly to many of us never reading the small print and it can make all the difference when it really matters. You want the most bang for your buck, but try not to be swayed simply by the cheapest deal as they don't always offer the best value for money or cover," concluded Colonnese. Aquarium Software is used by a number of travel insurers; pet insurers; and other consumer service providers and affinity partners in the UK, Europe, USA and Canada. For further information contact Aquarium Software on +44 (0)161 927 5620 or visit http://www.aquarium-software.com