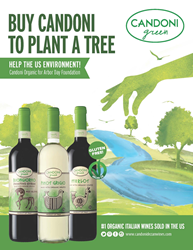 We are so happy for the opportunity to use our wine to give back to the environment in such a meaningful, tangible way
ATLANTA (PRWEB) April 19, 2018
The Candoni De Zan family of wines is celebrating Arbor Day 2018 by once again giving back to the Arbor Day Foundation. During the month of April, every case of Candoni Organic Wine sold in the U.S. will result in the planting of a tree within the Mississippi River Valley.
"Arbor Day is just such a natural holiday for us to celebrate," explains Armando De Zan, CEO of Candoni Wines, "because it relates so perfectly to our commitment to sustainability." Employing a full time agronomist and utilizing a host of cutting-edge, earth-friendly cultivation techniques, Candoni is generally recognized as one of the most sustainable vineyards in Italy.
Candoni Organic Wines are some of the brand's best-sellers, available in Pinot Grigio, Buongiorno Red Blend, and Merlot. "We firmly believe that good wines happen from the ground up, not just once the grapes make it to the cellar," explains Barbara Candoni De Zan, owner and vice president.
This will mark the 6th year of partnership between the wine family and the Arbor Day Foundation, whose mission revolves around creating a sustainable future for generations to come. Replanting efforts from the foundation's 2018 campaign will improve water quality and decrease pollution levels along the Mississippi River Valley, whose watershed touches 33 states.
"The Arbor Day Foundation's mission exactly mirrors our own," explains Barbara Candoni De Zan. "We are so happy for the opportunity to use our wine to give back to the environment in such a meaningful, tangible way."
Candoni De Zan Wines is an Italian wine family based in the Veneto region of Italy. With distribution throughout the U.S., the family specializes in traditional Italian wines including Merlot, Pinot Noir, Rose, Prosecco, and more. Candoni De Zan produces wine under the labels of Candoni, Carletto, and Polvaro Tenuta.
To find out where you can buy a case of Candoni wines and give back to the Arbor Day Foundation, please use the Wine Locator at http://www.CandoniDeZanWines.com.