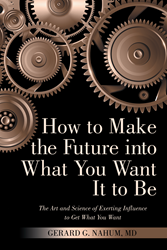 CHAPEL HILL, N.C. (PRWEB) April 23, 2018
In his fascinating treatise, Dr. Gerard G. Nahum helps readers steer the evolution of events and circumstances in the right direction by outlining the factors that both help and hinder the ability to predict what will occur as well as how to influence it in his book "How to Make the Future into What You Want It to Be: The Art and Science of Exerting Influence to Get What You Want."
Dr. Nahum provides strategies and tactics for addressing the issues that can stand in the way of people getting what they want. By providing 28 concrete, real-world examples with specific tools and approaches, he teaches others how to predict and influence their futures in a wide variety of realms such as personal desires, interpersonal relationships, professional endeavors, business and government activities, investments, and negotiations.
"The ideas that are presented in this book are useful whenever there is an advantage to assessing the impact of the interventions that we undertake," said Dr. Nahum. "It outlines the various constraints that impair our ability to predict and influence the future, considers them in context, and proposes methods to overcome them—to make what lies ahead less uncertain and more controllable."
"How to Make the Future into What You Want It to Be" is a guide for sound evaluation, planning, and execution that will help anyone successfully recognize, mold, and manage the elements of their future—so that they can get what they want both effectively and efficiently.
"How to Make the Future into What You Want It to Be: The Art and Science of Exerting Influence to Get What You Want"
By Gerard G. Nahum, MD
ISBN: 9781480855861 (softcover); 9781480855878 (hardcover); 9781480855885 (eBook)
Available at the Archway Online Bookstore, Amazon and Barnes & Noble
About the author
Gerard G. Nahum, MD is a physician with a background in engineering, thermodynamics, and information theory. He developed a theory of universal interactions while an undergraduate, medical student, and professor at Yale, Stanford, and Duke Universities. Dr. Nahum's interests and hobbies include education, philosophy, sports, aviation, and the theory of knowledge. He has published two previous books and more than 60 scientific and medical articles.
General Inquiries:
LAVIDGE – Phoenix
Bryan Beach
480-306-6554
bbeach(at)lavidge(dot)com
Review Copies & Interview Requests:
LAVIDGE – Phoenix
Kiersten Woglom
480-998-2600 x 586
kwoglom(at)lavidge(dot)com