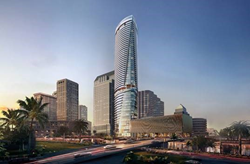 We are thrilled to show these designs to the Tampa community, and we are excited for Riverwalk Place to become an icon that Tampa will present to the world.
Tampa, Florida (PRWEB) April 19, 2018
Feldman Equities and Two Roads Development on Thursday proudly revealed the first architectural plans for Riverwalk Place, an iconic and truly international building that will become the tallest tower on the west coast of Florida.
Designed by the internationally renowned Gensler architectural firm, Riverwalk Place will rise more than 50 stories downtown, with offices, luxury condominiums and restaurants along the Riverwalk. Architecturally world class, Riverwalk Place will have a sweeping, curved design that would stand out in the skylines of New York, London or Shanghai.
The estimated $350 million Riverwalk Place project will employ more than 50 people during construction, with residences from $600,000 to more than $2 million. (Project site at SE corner E. Whiting Street and Ashley Drive South.)
"We are thrilled to show these designs to the Tampa community, and we are excited for Riverwalk Place to become an icon that Tampa will present to the world," said Gensler architect Shamim Ahmadzadegan. "From the outset, our goal was to do more than just design another tall building. We wanted the project to activate the Riverwalk, and contribute to the urban landscape of downtown Tampa." (To download high-resolution Riverwalk Place and other images, click here.)
Gensler has designed striking projects around the world, including the 127-story Shanghai Tower, the tallest tower in China and second-tallest building in the world. Shamim's recent projects include the 69-story, mixed-use Qianhai Shimao tower, which will be one of the tallest "twisting" towers in the world.
The Riverwalk Place design echoes the subtle lines of sailboats in Tampa Bay, he said, with a curved "arrowhead" pointed towards the Bay. That shape provides nearly every office and residence with a water view, and makes the tower more resilient to wind. Rows of balconies wrap each side, resembling an elegant pair of sails that peak at the top.
Shamim said the unique Riverwalk Place location called for a special design embracing the river and adjacent park. The entire ground floor will be merged with the park and boardwalk to create a 150-yard-long promenade of up to five restaurants and shops. A focus on pedestrian connectivity and engagement at the ground floor were driving factors behind the design. The developers and architects see the project as an extension of MacDill Park and the Riverwalk.
The tower will feature five floors of "live-work" units and ten stories of office space, followed by at least thirty-three levels of luxury condominiums. The lowest residences at level 22 will have a view most Tampa Bay penthouses would wish for. Among other features:

A double-height lobby with retail and amenities open to the public.
Dramatic improvements to MacDill Park, with more attractions along the river.
Private residential elevators which open to each unit, and a "Sky Lobby" on the 21st floor with extraordinary amenities.
An integrated parking deck shrouded with a façade of copper fins, and topped with a rooftop bar, lounge and event space that overlooks the Hillsborough River.
"This will be the first new office skyscraper built in downtown Tampa in 30 years, and the first ever mixed-use tower," said Feldman Equities President and Chief Executive Larry Feldman. "Riverwalk Place is a site like no other and will become the social hub of downtown."
Activity has already started around the project site. The existing CapTrust building on Ashley Drive has been vacated and will be demolished, making way for the main Riverwalk Place tower.
"Creating a tower that changes a skyline is a truly special opportunity, and we are proud to be embarking on this endeavor," said Taylor Collins, Managing Partner Two Roads Development, the co-owner and co-developer of the project. "Riverwalk Place will be the first luxury residential condominium in downtown Tampa and will be comparable to the best of New York or London. Our sales gallery is under construction next door, and we look forward to welcoming buyers there this summer."
The Tampa project includes a range of local and international partners. In addition to Gensler, the Florida-based Adache Group Architects is a high-rise condo specialist providing local residential design expertise. New York-based GPB Capital Holdings LLC is an original partner in the project and is providing ongoing equity financing. GPB Capital is a diversified private equity fund with more than $1.5 billion under management, including investments in healthcare, energy, professional services and real estate.
Riverwalk Place recently began taking contact information from potential condominium buyers at RiverwalkPlace.com. Smith & Associates Real Estate of Tampa Bay is the exclusive listing agent.
About Gensler:
Gensler is a global architecture, design, and planning firm with 44 locations and more than 5,000 professionals networked across Asia, Europe, Australia, the Middle East, and the Americas. Founded in 1965, the firm serves more than 3,500 active clients in virtually every industry. Gensler designers strive to make the places people live, work, and play more inspiring, more resilient, and more impactful.
About Feldman Equities:
Feldman Equities, LLC encompasses a century of success in commercial real estate development and ownership throughout the United States. Feldman Equities and its joint venture partners own or manage over four million square feet of Florida office space. Over the past 30 years, Feldman Equities has developed or acquired over eleven million square feet of office and retail properties with an aggregate value exceeding $3 billion. Learn more at http://www.feldmanequities.com.
About Two Roads Development:
Two Roads Development is a South Florida-based real estate development firm whose principals have combined over 120 years of experience in developing, financing, and marketing residential and commercial projects across the United States. Over the years, Two Roads has set the standard for luxury development with properties that feature the best location, architecture, amenities and services in the industry. In addition to the Riverwalk Place in Tampa, the firm's current residential portfolio includes Elysee Miami and Biscayne Beach, two luxury condominiums in downtown Miami, FL; Tuscany Ranch, a 6,000-home master-planned active adult community in Citrus County, FL; and Freeport Plantation, a master-planned mixed-use community in Freeport, FL. Learn more at http://tworoadsre.com/.
About Adache Group Architects:
Over the course of the past fifty years, Adache Group Architects has become one of the world's leading design consultants for the hospitality, leisure, and multifamily housing industries. Adache Group offers integrated design services comprising of Strategy, Programming, Planning, Architecture, and Interior Design. The Adache firm has a global reputation as a leading international design firm, having clients and projects in dozens of states, in over forty-five countries and on five continents. http://www.adache.com/
About GPB Capital Holdings, LLC:
GPB Capital Holdings, LLC is a New York-based asset management firm. GPB Capital provides their portfolio company operators with the strategic planning, managerial insight and capital needed to enable strong businesses to achieve the next level of growth and profitability. GPB Capital has over $1.5 billion in assets under management and has acquired or invested in over 160 portfolio companies. For more information, please visit http://www.gpb-cap.com.